New Dawn Rose, the most favorite rose especially in United States is soft pink flowering plant with delicate rose clusters that gives repeating flower. Proper light, well-draining soil, watering, and fertilization keep the stunning blooms. Above all, timely pruning helps to grow healthy and disease-free plants.
This award winning climbing rose is the best rose one can ever grow in garden to make morning as refreshing as this rose is.
Here you will get brief history and characteristics of the dawn rose. Next, I have summarized its light and watering requirements, plus healthy soil parameters and fertilization guidelines. You will also get about its pruning technique and ways to keep it safe from diseases.
Further Reading:
History
'New Dawn Rose' is one of the most prominent climbing roses, discovered from rosa cultivar (Rose Dr. W. Van Fleet), resulting from a peculiar change named as sport.
Plant Sport is an accidental mutation in plant that results in a new, physically and genetically different plant from parent.
This mutation occurred in Van Fleet Rose Cultivar and brand new variety New Dawn Rose Came into existence.
In 1930, Henry Dreer was the first to discover and introduced this climbing rosa variety.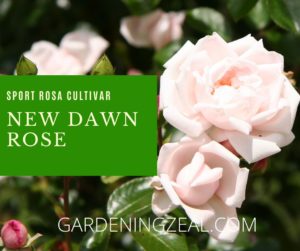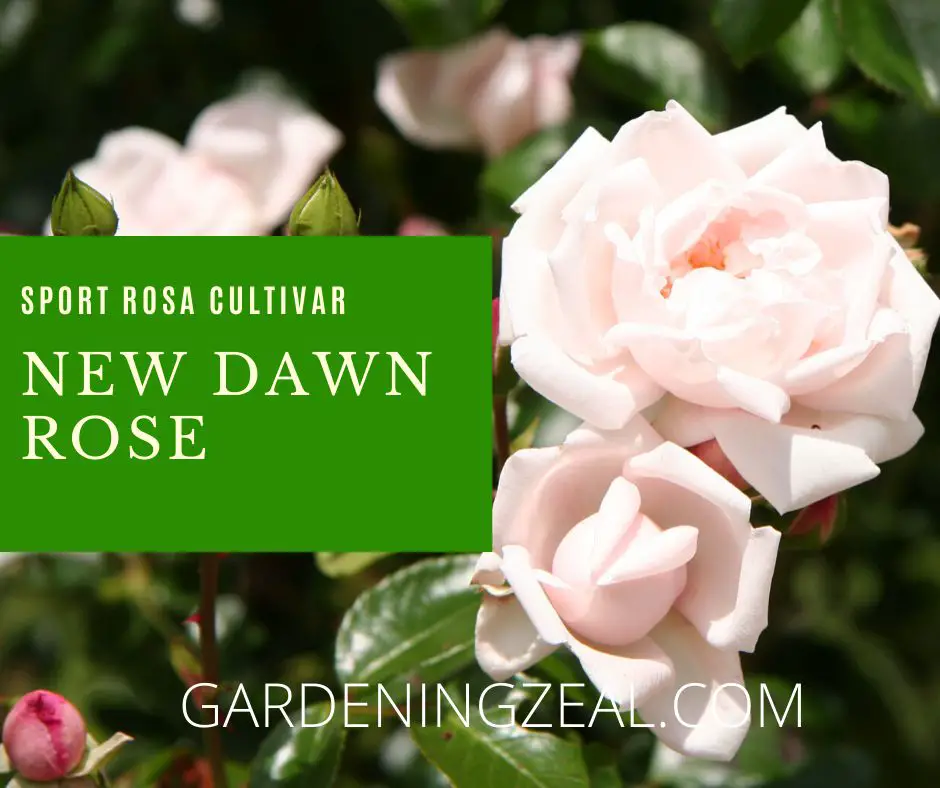 It is also first ever Patented rose in United States since then, this rose opened the doors for more plants and roses to be patented.
New dawn rose was also selected in World Rose Societies Federation in Rose Hall of Fame.
General Summary – Rosa New Dawn
Scientific Name
Rosa 'New Dawn'
Common Name
New Dawn Rose
Type
Mutant Rose Variety
Height
15-20 Feet
Spread
6-10 Feet
Foliage
Glossy green
Flower
Silvery pink double bloom
3.5 in. diameter
25-40 petals

Blooming Season
Generally Spring
Suitable Place
Outdoors (Direct sunlight spot)
Soil
Humus-rich, well-draining
Light
Bright sunlight
Water
Moderate
Fertilization
Slow-release fertilizer
Pruning
Late winter
Zone
4 through 9
Toxicity
Non-toxic
New Dawn Rose Characteristics
Perfectly exhibiting beauty of fairy tail rose, 'The New Dawn Rose' is sweetly fragrant double bloom with silvery pink flower.
Due to their abundant easy to train canes, climbing new dawn is most admired in U.S.
Silvery Pink Blooms
This unique climbing rose has super scented pale pink to whitish double blooms with almost 35 petals.
As it matures, white flower dominates and gracefully add beauty of rose.
Glossy bright green leaves on extended trained canes give charming look to new rose when you grow along trellis or pergola.
The leaves fall in autumn that are regained in spring.
Dawn rose is specifically recognized due to its double flowering that is at its peak throughout summer, June the prime time. Second blooming in the fall.
Growth Habit
Generally, roses are sun lovers and grow best in more sun, but more surprisingly new dawn is most shade tolerant.
If you have grown them in area with 4-5 hours of afternoon sunlight, north facing side, they will give pretty pale pink flower without much troubling you.
No trouble by new dawn rose?
Yes! Long canes do not overcome by most of the problems. It is most disease resistant rose you have ever grown.
Hardiness
This climbing rose is most suited for United States hardiness zone 5 through 9 and 10.
If you are living in zone 4 and want to grow climbing dawn, you can grow by planting buds beneath the soil.
Approximately three to four inches depth will give you growth.
New Dawn Rose Care
Light
Just like any other rose in your garden, the new dawn rose strives for bright light. The ideal location for this climbing rose is a sunny spot receiving at least six to eight hours of direct sunlight.
The adequate light helps roses bloom and give a spark to the garden. The inadequate light makes plants stressed out and susceptible to diseases.
Pro Tip
If your dawn roses are not blooming or are fighting with multiple problems must reconsider their location and ensure proper light.
Water – Rosa New Dawn Climbing Rose Water Requirements
New Dawn Rose needs regular watering for a robust root system. The adequate amount of water enables soaking up nutrients and encourages blooms. But here, you must not confuse watering with flooding and make plants waterlogged. Never go for it!
From early spring to late autumn, the dawn rose needs 1 inch of water each week during the growing season. This is the ideal amount of water to make plants healthy and keep growing.
If there is heavy rainfall in your zone, don't water unless the soil is completely dried out. On the contrary, water well on hot summer days. You can revise the watering schedule every other day or daily in scorching summer.
When watering Rosa New Dawn, or any plant, beware, water only goes in the soil, and leaves and flowers are fairly dry.
This helps to grow a disease-free plant. Water by rose watering can or sprinkler heads is an option but not preferred as both make plants wet thoroughly. Instead, drip irrigation systems and soaker hoses are the best for directional and controlled watering.
Pro Tip
Mulching is an excellent way to retain soil moisture as roses need dampness to establish roots. You can use dry grass clippings, pine straws, or spread wood chips to a depth of 2 inches around roses.
Soil
Roses bloom well in deep and humus-rich soil. Although they can go with a wide range of soils, moist and well-draining soil keeps dawn rose roots anchored.
Most importantly, it should be nutrient-rich. Plenty of nutrients help the new dawn rose to fulfill their growth needs without establishing competition.
So, keep soil pH in the range of 5.5 to 7.0, but 6.5 is the ideal pH.
You can easily use pH indicators or soil pH meter to check the soil pH and adjust accordingly. In fact, home remedies are the best solution to drop or increase pH without adding chemicals.
If there is a need to increase the pH, you can add coffee grounds or fruit and vegetable peels. Banana and alfalfa are super effective and prove beneficial for roses.
On the other hand, if your soil shows relatively high pH, use eggshells, ground seafood shells, hardwood ashes to bring it down. But don't rush for it and do it slowly over the course of a few months.
This gradual decrease in pH will be stable and do not affect soil nature.
As said earlier, mulching gives additional benefits and keeps the dawn rose healthier, so use this approach to keep the soil healthy.
Pro Tip
You can also use dolomite lime to keep soil pH in the optimum range.
Fertilizer
Fertilization is an essential new dawn rose care factor, and plants' growth mainly depends on it. Like soil pH test, testing soil sample for nutrient content is an excellent approach and gives clear cut repot of nutrient deficiencies.
You can use specific fertilizers as per test recommendations and go clear. According to the University of California, Nitrogen is the nutrient often lacking in the soil of roses. So, choosing a nitrogen-based fertilizer would be best.
But if you want to kip testing, fertilize new dawn rose in the spring as soon as you observe new growth.
Pro Tip
Feed climbing new dawn rose in late March-April and again in late July for best results. Beware, you have fertilized the soil before planting and do so twice a year. You can use slow-release fertilizer specially formulated for roses or take water-soluble general fertilizer.
Pruning Hybrid Tea Roses
New dawn hybrid tea rose is a climber and responds well to pruning. But cutting branches and stems randomly do not make use of pruning.
You must be aware of the rose pruning technique and time to get the blooms back. So here we see the details of when and how to prune new dawn rose.
When and How to Prune New Dawn Climbing Rose?
First of all, bear in mind that the new dawn rose should not be pruned for the first two years after planting. The roots need to be established, and flowers bloom.
When it starts blooming and produces creamy pink double flowers on long branches, you may get yourself ready for new dawn rose pruning.
So, wait for late winters to prune your plant as it is about to break dormancy and produce new buds. Therefore, it is high time to cut back weak, dying, damaged, or diseased stems.
Don't forget to wear tough gloves or rose gardening gloves thorn resistant to prevent any damage.
Secondly, use sharp and sterilized pruning shears or other cutting tools to discourage any disease transfer.
Long branches can be cut 10 to 15 inches from the graft or 4 to 6 buds from the base.
Cut short branches harder and leave some buds or a few inches of shoot above ground. As plants grow and canes become tough, cut them back to encourage new shoots as it also improves air circulation to the center of the plant.
Next, prune the stem of dawn climbing rose, neither too thick nor too fragile. You can keep it to the thickness of a pencil to support blooms. If any stem arises from below the union, cut all the way back.
Pinch the dead leaves or blossoms off the plant to keep it attractive and healthy. Furthermore, tie the canes with the trellis, arbor, or pergola to keep it growing along with the support.
Lastly, don't panic if you cut roses harder as they are resilient and grow back. So, go ahead and prune dawn rose at the right time!
Diseases and Insects – Rosa New Dawn
New dawn rose is exceptionally resistant to diseases and copes with unacceptable conditions. Still, some notorious insects and fungal attacks can put the plant at risk.
You may see black spots on this climbing rose or get powdery mildew.
Aphids or spider mites can also damage the plant. So, keep an eye and observe the signs of insect activity. Immediately treat the plant with horticultural oil spray or contact university extension services if the problem is uncontrolled.
FAQs – New Dawn Rose
Is New Dawn Rose A Climber Or Rambler?
The new dawn rose is mainly a climbing rose for its large, single, or clustered flowers. Generally, rambling roses produce small flowers held in large sprays having 20 blooms per stem and bloom once. But on the contrary, a new dawn has all characteristics of climbing rose; large, repeating blooms and grow solitary or in clusters.
Is New Dawn Climbing Rose A Repeat Bloomer?
A new dawn rose is a fantastic repeat bloomer and gives flowers from July to September. This apple fragrant rose grows well in sunshine and can tolerate partial shade. Repeating plus climbing rose characteristics make this plant suitable for covering a wall or front of the house.
Will New Dawn Climbing Rose Grow In Shade?
New dawn rose is an avid sun lover and gives striking blooms in full sun but can tolerate partial shade. Plant dawn rose where it can receive at least 4 to 6 hours of direct sunlight. If there is no sunny corner left on your lawn, prefer planting in a pot to move in the sun during cold days.
Where To Buy New Dawn Climbing Rose?
Buying new dawn roses is relatively easy as they are available in containers around the year, especially in summer. Container roses make plantation easy compared to bare root roses as they are accustomed to the growth conditions and respond quickly. You can buy new dawn roses in containers here.
So, never let pink new dawn climbing rose fade and give it optimized, nutrient-rich, and well-draining soil with adequate watering. Furthermore, make it healthier with rose fertilizers and prune with sharp tools to avoid squashing of the stems. After following all-new dawn rose care guidelines, you will be amazed to see its blooms and captivity.
Read More: