Indoor plants in homes and offices are preferred to be grown near windows but what about people living in windowless places? Do indoor plants need to be by a window in real-time and cannot grow elsewhere? Worth intriguing!
So yes, indoor plants need to be by a window for the right amount of light to promote photosynthesis and all other vital functions going on in the plant. Windows give direct access to light and also maintain their temperature plus humidity.
You need to dive into the details of different window orientations in a room, find suitable houseplants and grow that work well for you. Also, discover alternatives to windows for gardeners living in windowless apartments or get the benefit of them in a low-light area. Additionally, you will find signs of plants growing in low light and some useful tips to care for houseplants placed far from the window.
Lastly, houseplants growing in low light conditions are also given to make plant selection easy for you. Let's see!
Windows and Plants – What's the Connection?
Placing indoor plants near windows is important for the core reason – sunlight. This light is the life for plants for various reasons like: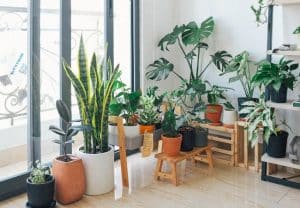 Light is an essential element for the growth and development of plants. It plays a crucial role in a process called photosynthesis, where plants use light energy to convert carbon dioxide and water into glucose, a type of sugar, and oxygen. This process is the foundation of plant growth and is the reason why light is so important.
Without light, plants cannot perform photosynthesis, which means they cannot produce the energy they need to grow, develop, and produce flowers and fruits. Also without light, you get deprived of oxygen.
Light also affects the plant's shape, color, and overall health.
It influences the size and shape of leaves, the color of flowers, and the growth rate of stems and roots.
Windows allow fresh air to circulate around plants, promoting better ventilation and preventing stagnant air.
Windows also play a vital role in regulating the temperature of a room for optimum growth.
Do Indoor Plants Need to be By a Window – Really?
Indoor plants really need to be by a window for light. It is also evident from above mentioned reasons convincing light brings energy and life to the plant.
Placing houseplants next to the windows allow more light exposure. Now you may ask if there are multiple windows in a room with varying lights at different times of the day so which window suits best for my plant.
This is a valid concern.
Remember, the intensity of light is also important. Too much light can cause a plant's leaves to burn, while too little light can cause the plant to grow tall and spindly instead of growing strong and healthy. It's a delicate balance and your plants will grow to their full potential if grown at the right window.
Here's a description of windows based on their orientation and where indoor plants should be placed:
1.      South-facing windows
These windows receive the most sunlight throughout the day, making them ideal for plants that require a lot of light.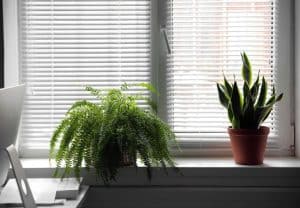 However, direct sunlight can also be intense and hot, so it's important to choose plants that can tolerate the heat and to avoid placing sensitive plants directly in the sun.
Plants that do well in south-facing windows include succulents, cacti, and tropical plants like bird of Paradise and hibiscus.
2.      East-facing windows
These windows receive bright morning light but less intense afternoon sunlight. Plants that prefer bright, indirect light are well-suited for east-facing windows.
Examples include ferns, snake plants, and peace lilies.
3.      West-facing windows:
These windows receive the most intense afternoon sunlight, which can be too hot and intense for some plants.
Plants that can tolerate the heat and bright light, like succulents, can do well in west-facing windows.
4.      North-facing windows
These windows receive the least amount of direct sunlight, making them best suited for plants that can tolerate low-light conditions.
Plants like ZZ plants, spider plants, and pothos can thrive in north-facing windows.
It's worth noting that not all rooms have windows facing each direction, and the amount of sunlight that enters a room can also be affected by the surrounding buildings or trees. It's important to choose plants that match the available light conditions.
>>>>
Alternatives to Placing Indoor Plants by a Window
Now houseplant enthusiasts living in apartments, vans, studios, or other small areas don't have access to all types of windows. There are window alternatives for more controlled light conditions.
These include:
Artificial lighting
Grow lights
Reflective surfaces
·         Artificial lighting
Artificial lighting can be a great alternative to natural light for indoor plants, especially if your home or office lacks windows or natural light sources.
There are many types of artificial lighting available, including
LED lights
Fluorescent lights
High-intensity discharge grow lights
Incandescent lights
When choosing an artificial light source for your plants, it's important to consider the color temperature, and brightness of the light. Most plants require a color temperature between 5500-7000K for optimal growth, which is similar to the color of natural daylight.
In terms of brightness, most plants require between 200-1000 foot candles of light per day, depending on their specific needs.
It's also important to adjust the duration and intensity of the light to meet your plants' needs and ensure they receive adequate light for photosynthesis and growth.
>>>>
It's worth noting that different types of plants have different lighting needs, and you may need to adjust the intensity and duration of the artificial lighting depending on the plant species.
·         Grow lights
Grow lights are specifically designed to provide plants with the spectrum of light they need for photosynthesis and growth.
They come in a variety of sizes and types, from small desktop lamps to large overhead fixtures.
When choosing a grow light, it's important to consider the type of plants you have and their specific light requirements. Different plants require different spectrums of light, so be sure to choose a grow light that provides the appropriate spectrum for your plants.
·         Reflective surfaces
There are several other methods of providing light for indoor plants, such as reflective surfaces, mirrors, or even white walls. These can help bounce light around the room and provide more indirect light for your plants.
Additionally, rotating your plants regularly can help ensure they receive equal amounts of light from different directions. While these methods may not be as effective as natural or artificial light sources, they can still provide some light for your plants and help them thrive.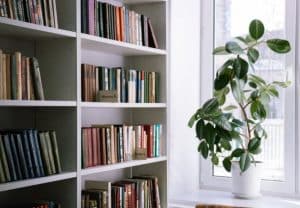 Overall, there are several alternatives to placing indoor plants by a window that can help your plants receive the light they need to grow and thrive. By researching your plants' specific light requirements and providing them with the appropriate type and amount of light, you can help your plants reach their full potential and enjoy a healthy, vibrant indoor garden.
How Can You Tell if Your Indoor Plants are not Getting Enough Light?
Now you already know the answer to the prime query do indoor plants need to be by a window still be aware of the signs showing plants do not have adequate enough light. These signs will better help you identify light issues at the right time making it possible for a quick solution.
Here are the signs of houseplants not receiving enough light:
1.      Leggy growth
An obvious sign of inadequate light source in plants is their leggy growth. If your plant is growing tall and thin with long spaces between leaves then clearly get that it's not getting enough light.
Leggy growth occurs when a plant stretches to reach available light sources and can result in weak, spindly stems that are more susceptible to damage.
2.      Small or discolored plant leaves
Smaller or pale plant leaves are a clear indication that it's not getting enough light. Without adequate light, plants may not produce enough chlorophyll, which can cause their leaves to appear pale or yellowish.
3.      Stunted growth
Plants growing in inadequate light grow slowly. If your plant is growing slower than usual, this could be a sign that it's not getting enough light. Without sufficient light, plants may not be able to produce the energy they need for photosynthesis and growth, causing stunted growth.
4.      Leaf drop
Without enough light, plants may not be able to produce enough energy to sustain their leaves, which can cause them to drop off.
5.      Lack of blooms or fruits
If your plant usually produces flowers or fruit but has stopped doing so, this could be a sign that it's not getting proper light. When there is no light, there will be no energy to support flowering or fruiting.
If you notice any of these signs, it's important to take action to provide your indoor plants with more light. This could involve moving them to a brighter location, supplementing their natural light with artificial lighting, or adjusting the duration and intensity of their light source to meet their specific needs.
With the right amount and type of light, your indoor plants can thrive and add beauty to your home or office.
Can Indoor Plants Survive Without Natural Light?
While most indoor plants require some amount of natural light to survive, there are some species that can thrive in low-light conditions. These plants have adapted to low-light environments in their native habitats and can survive with minimal exposure to sunlight.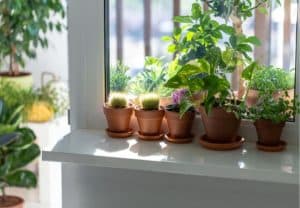 Some examples of indoor plants that can survive without natural light include:
Snake Plant (Sansevieria) is an extremely low-maintenance houseplant and can survive in almost any light condition, including low-light environments.
ZZ Plant (Zamioculcas zamiifolia) is known for its ability to survive in low-light conditions and is also drought-tolerant, making it an excellent choice for those who are new to indoor gardening.
Peace Lily (Spathiphyllum) can survive in low-light conditions, although it may not produce as many blooms as it would with more light exposure.
Chinese Evergreen (Aglaonema) can also tolerate low-light conditions, but it may grow more slowly and produce smaller leaves.
Pothos (Epipremnum aureum) is a popular houseplant that can survive in low light but may lose some of its variegation and color without adequate light.
It's important to note that even low-light plants still require some amount of light to survive and grow. If you're growing plants in low-light conditions, it's essential to ensure they still receive some light exposure, such as through artificial grow lights or by placing them near a bright window.
Additionally, low-light plants may grow more slowly and require less frequent watering than those in brighter conditions.
Overall, placing your houseplants near a window can provide them with access to natural sunlight and improve the air quality in your home. However, it's important to consider the potential risks such as temperature fluctuations, sunburn, pests, and drafts. By carefully monitoring your plants and adjusting their placement as needed, you can help ensure their health and growth.
5 Tips to Care Houseplants away from a Window
Caring for indoor plants that are not placed near a window requires a bit of extra attention to ensure they receive the light, water, and nutrients they need to thrive.
Here are some tips for caring for indoor plants that are not placed near a window:
As mentioned earlier, providing artificial lighting is crucial for indoor plants that do not receive enough natural light.
Indoor plants that are not near a window may not require as much water as those in brighter areas. Check the soil moisture level regularly and water only when the soil is dry to the touch.
Ensure your indoor plants are potted in well-draining soil that allows excess water to drain away easily. This will prevent water from accumulating in the soil and causing root rot.
Many indoor plants thrive in humid environments. If your indoor space is dry, consider using a humidifier to increase the humidity levels and help your plants thrive.
Even if your indoor plants are receiving artificial lighting, it's still a good idea to rotate them occasionally to ensure they receive light evenly. This will prevent one side of the plant from growing more than the other side.
By following these tips, you can help ensure your indoor plants thrive even if they are not placed near a window.
Conclusion – Do Indoor Plants Need to be by a Window?
In fact, plants placed near a window get all they want for happy and healthy growth. Remember, all houseplants are not the same and their light requirements vary so choosing the right window (south, east, west, or north-facing) is important. A comprehensive table listing all the types of windows with light intensity at different intervals of the day can help you in this matter. Suitable plant varieties are also discussed as per each window orientation.
Lastly, don't think you cannot have indoor plants if you live in a windowless place. Artificial lighting and other sources are there to help. Just use them the right way as discussed and take good care of plants not growing near windows.
Your indoor garden will be happily thriving.