Star of Bethlehem plant delicately embellishing Star of Bethlehem flower is a bulbous perennial belonging to Lily family.
This winter bulb is native to the Mediterranean region spreading along banks of streams and ditches.
Six petaled Star of Bethlehem flower add to the glory of the plant and if you will grow this plant, you will find it soothing.
In joy or sadness, flowers are our constant friends.
Love them! These floral friends would never let you fade.
If you want to beautify your garden with the Star of Bethlehem flower, you must follow the given guide.
You will get about flower meaning and significance, growth, most noteworthy care tips, uses, and warnings to have full blooms.
Further Reading;
Star of Bethlehem Plant: A Splendid Plant to Grow
Star of Bethlehem plant (Ornithogalum umbellatum) is perennial with white star-shaped flowers that bloom in late spring or early summer.
It is similar to garlic but does not have a garlic odor when crushed.
Flowers of Star of Bethlehem form clusters with arch-shaped strap-like green foliage.
They are perfect garden ornamental plants with flowers that bloom for 1-3 weeks even in a vase placed at your table.
There are almost 50 to 300 species but some are favored for gardeners. Here are some popular species of Ornithogalum
Star of Bethlehem Flower Meaning – Etymological and Color Significance
Every flower is a soul blossoming in nature. The Star of Bethlehem Flower has special religious significance in Christianity too.
It is also known as Ornithogalum where "ornithos" means "bird" and "gala" means "milk" indicating "bird's milk flower".
The flower bulbs of this plant are also referred to as 'Dove's Dung' and this name of the flower is still used in some cultures.
Piety white Star of Bethlehem Flower supplements glory of plant and are most commonly known but Star of Bethlehem plant with a different colored flower are also grown.
These may be orange, yellow, blue, purple colored flowers each with significant meanings like:
White – a symbol of peace, innocence, honesty, and purity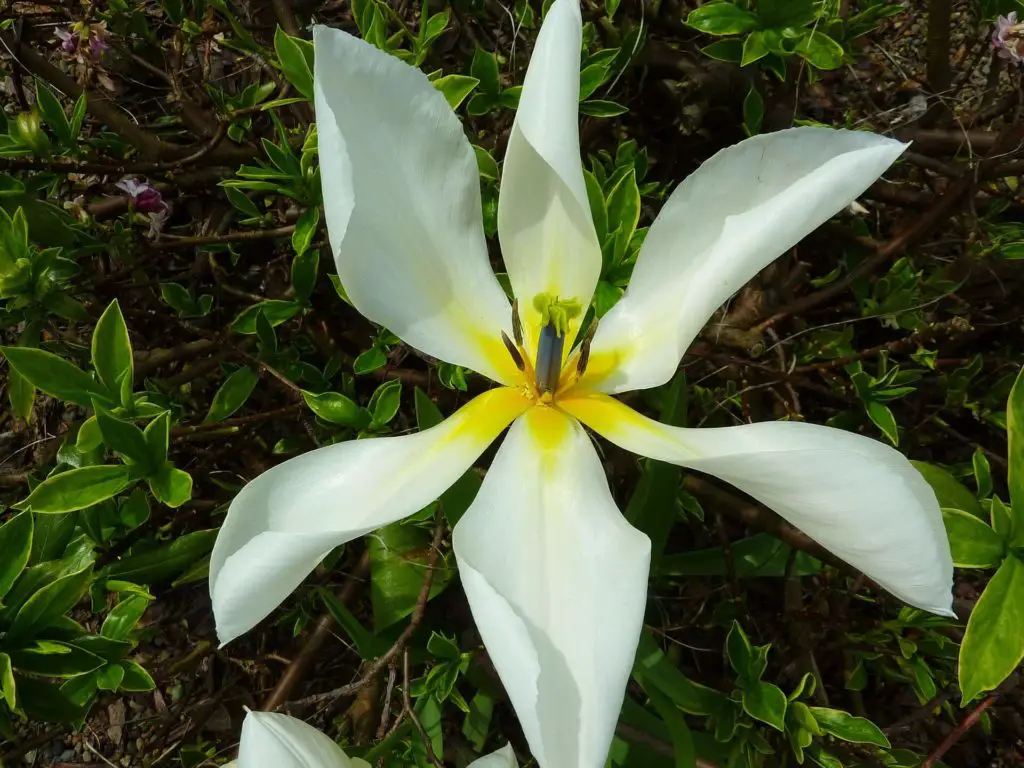 Yellow – a sign of joy and happiness
Purple – depicts royalty due to its uniqueness
Orange – although not very common but is a symbol of optimism and joy  
Blue – shows a high level of respect and dignity
You can also use the white flower to make beautiful bouquets for greetings in addition to floral arrangements for Christian ceremonies like marriages and baptism.
Above all, you can also beautify your garden with these enchanting flowers and make parties delightful with decorations.  
How to grow Star of Bethlehem Flower– 3 Easy to Follow Steps
If you want to beautify your garden with the Star of Bethlehem flower, fall is the best time to plant.
1. See Your Zone
Different species of Ornithogalum grow well in different zones. Generally, Star of Bethlehem is hardy to USDA Hardiness Zones 4-9.
Ornithogalum dubium is hardy to USDA 8 through 11 while O. umbellatum and O. nutans are hardy to zone 6-9.
2. Select the Best Place
Ornithogalum is a sun-loving plant and grows best in full sun. You can plant it in a landscape that gets full sunshine.
But it can also grow in partial shade.
If you are having only a free site where partial sunlight comes, then you can also plant there.
Your efforts will not go fruitless!
3. Plant the Star of Bethlehem Flower Bulb
Growing Star of Bethlehem flower in your garden s not difficult. Rather it's very easy.
You can do it on your own!
You just need to get things needed and plant with care by following this procedure:
Organic and humus-rich soil is best for the growth of Star of Bethlehem therefore, try to provide medium moisture and well-drained soil mixtures.
As far as soil type is concerned, it can easily grow and propagate in ordinary garden soil but sandy and loamy soils are preferred for best growth.
As the plant is easy to spread and can invade other plants, take a container to grow safely.
Dig a hole in soil and plant bulb of Star of Bethlehem about 3-6 inches deep and 10 to 15 cm (4-6 inches) apart.
Be sure about the environment in which you are living and plant accordingly.
But if you think you are at borderline for plant hardiness, place the bulb deeper in soil consequently it will give good results.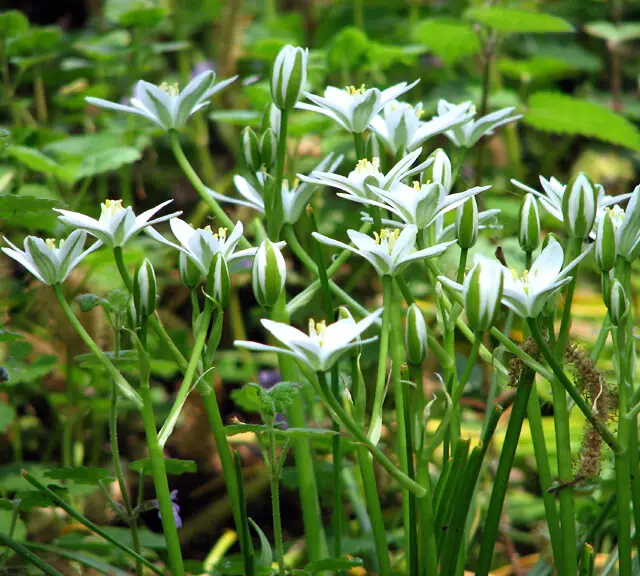 Set the bulb with pointed ends facing up. Now cover the bulb with soil and water as per need.
Your beautiful white flower will bloom and beautify your garden.
Star of Bethlehem Flower Care: 7 Exceptionally Workable Tips
Plants need care and maintenance. If they would be attacked by diseases or wilt, the beauty of the garden will be ruined.
Mostly they are not at high risk of insects or pesticide attacks. Blue rot and root rot attack plants with soggy soil having improper drainage.
You must take care when watering this delicate plant. Do not overwater because the plant needs average watering.
Take special care of soil drainage as you will see by giving good drainage plant health will also increase. 
Improve drainage of the soil, health will be improved.
As Star of Bethlehem is invasive and can grow easily and quickly it must be grown in a container so that other plants remain safe. Avoid cutting and mowing when bulbs are at beginning of growth.
Apply general purpose, houseplant liquid fertilizer every two weeks.
Once leaves have started yellow after flowering is over, stop watering until new growth appears.
Star of Bethlehem Flower Uses and Benefits
Star of Bethlehem plant has its own significance in the garden as people are using it as a remedy from ancient times. Here are some beneficial uses that you must know if you have or wants to grow in the garden.
1. Shock Healing
It is an effective remedy for shocks that might be of any sort like shock, accident, distress, after effect shock of any bad or unexpected news or event.
It is also a remedy to console or figure out emptiness or loss that occurs when someone special is lost or died.
This shock healing plant neutralizes your present or past shocks even that of your childhood.
2. Heart Failure
Extract of Star of Bethlehem is good in curing heart failure. Most people use it for congestive heart failure.  Many people who took its extract felt wellness in their heart function.
As heart patients need more precautions, one must consult a doctor prior to considering it as a remedy for heart failure.
3. External Application
It is applied to the skin against blisters or ulcers externally.
4. Homeopathy
Bulbs of Star of Bethlehem flower are also used in a homeopathic remedy.
5. Cancer Treatment
Certain forms of cancer are treated using the Star of Bethlehem.
6. Emotional Pain
Suicidal behavior, sadness, or a state of discomfort are relieved by plant extract.  
Is Star of Bethlehem Flower Invasive?
Growing a plant with a cool and pretty flower-like Star of Bethlehem flower is amazing. But often things go at a path where they are not directed to.
Star of Bethlehem also shows sort of directionless growth if allowed to grow without a container. It has some invasive nature to grow, grow and grow where wants to grow in its vicinity.
It might be the case that if you have enjoyed the charm of Star of Bethlehem flower and want to place it with other flowering plants, it is not so easy to get rid of it.
This plant has waxy leaves and is quite herbicide-resistant.
But above all don't be disappointed.
You need to do some effort to clear up the place. You have to individually dig up each bulb.
That is why it must be handled carefully.
Grow but With Care – Warning!
If you are growing this plant, you must be aware of its pros and cons.
The bulb and foliage contain toxic alkaloids and could be dangerous for animal livestock or pets.
But it does not mean that you can not have this exceptionally beautiful plant in your garden and outdoors.
You just need to follow some safety measures.
Try to plant in inaccessible areas of your dogs, cats, or other grazing animals if you plant outdoor.
Hope if you were lacking any information about Star of Bethlehem Flower, you have got ideal knowledge about it and if you were planning to grow after some time, you will definitely grow promptly.
Now plant it, care for it and appreciate its captivating beauty!
Read More: