An outstanding ornamental tree, Autumn Moon Japanese Maple is a stunning shrub with exceptional foliage unfurling reddish orange leaves.
Full moon Japanese maple fascinates with blushing multi shaded leaves transforming and blending colors beautifully.
If you have a small garden or want to grow in the container, it the most ravishing maple you have ever seen in your life.
So, let's begin with history of autumn moon Japanese maple, key attributes, its simple and easy care routine and pest problems so that you can grow it in your yard.
Further Reading;
History – Autumn Moon Japanese Maple
Autumn Moon Japanese Maple (Acer shirasawanum) is the small native tree of Japan that like many other maples came from parent species Acer palmatum.
It is the full moon maple that is not abundantly found in America but is highly Prized in Japan.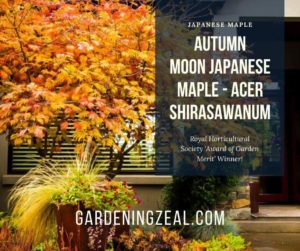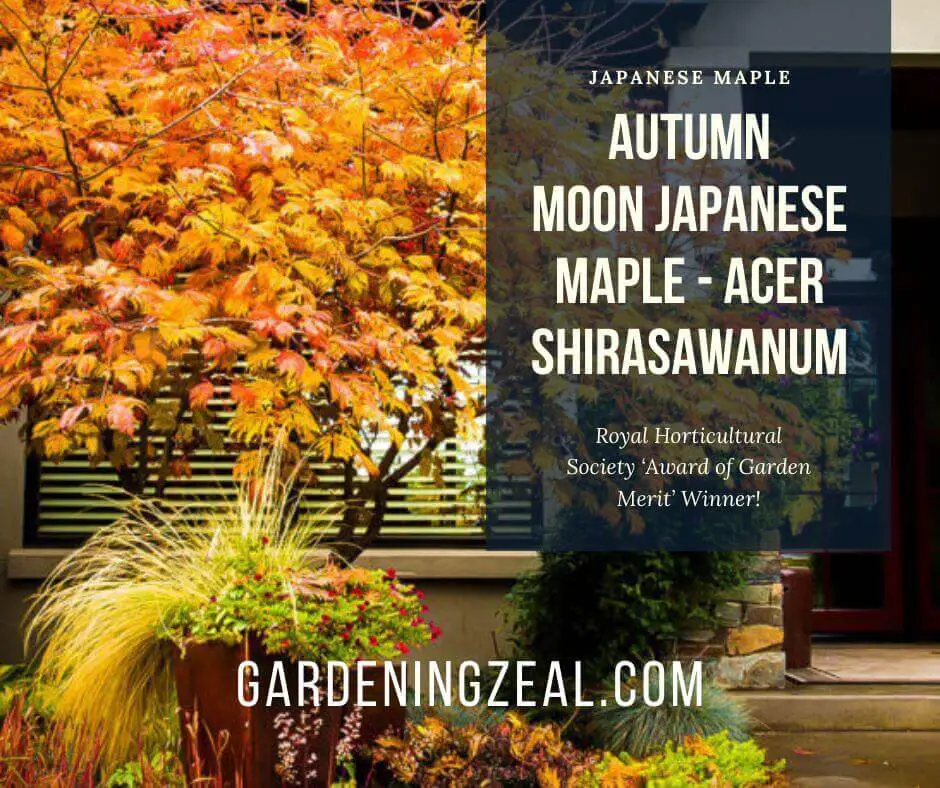 There are many other cultivars of Acer but A. shirasawanum cultivar 'Aureum' (Full Moon Maple) is mostly grown and to prime interest.
Its been awarded by Royal Horticultural Society 'Award of Garden Merit'.
Autumn moon maple has quite interesting history. J.D Vertrees was a professional gardener who devoted his life to research on Japanese Maple.
He established a small Maple-wood Nursery where he worked on several varieties of maple and published his book named 'Japanese Maples' based on his personal experiences.
J.D Vertrees grew many varieties but in no time some seedlings caught his attention. He focused on that particular plant that became tree "Autumn Moon Japanese Maple".
Autumn Moon Japanese Maple – Key Features
Full moon maple is an elegant acer with bold burnt orange colored leaves that is the best choice for your garden.
This easy to grow maple is a shrub with brilliant orange sprouting leaves in spring that intensify as summer approaches.
The tones of new leaves intensify towards the ends of growing tips with golden green shades underlying orange margins.
Full moon Japanese maple gives fully intensified reddish orange leaves in bright sun or partial shade that turns into all shades of fire before falling in winter.
It can reach height 10 – 15 feet that may be upto 20 ft. at maturity and 5 – 7 feet wide.
This beautiful, heat tolerating plant's leaves have 9 to 11 short lobes and a prominent rusty colored midrib.
Stunning ivory pink flower bloom in spring embellishing your garden with contrasting foliage color.
If you want your garden to fiercely blush in sun, its not late to give full moon maple place in your yard.
Full Moon Japanese Maple – Summary
| | |
| --- | --- |
| Botanical Name | Acer shirasawanum |
| Hardiness | 5, 6, 7 |
| Height | 10 – 15 ft |
| Width | 5 – 7  ft |
| Leaf Color | Multi-color |
| Leaf Shape | 9 – 11 lobed Fan Shape |
| Rate of Growth | Slow to intermediate |
| Soil | Well Drained Loamy Soil or Clay |
| Watering | Average |
| Sun Exposure | Full Sun to Partial Shade |
| Use | Ornamental City or Cottage Garden Tree |
Autumn Moon Japanese Maple Care Routine
Growing and caring trees especially ornamental plants is such a fun-loving art that everyone loves.
Autumn moon Japanese is also a marvelous showy tree that you can maintain in your yard very easily by following simple care routine.
So, cross check your routine with given guidelines and add what you are missing!
1. Soil
If you want to grow autumn moon maple in your garden, you have to use clay or loam for its best growth. Sandy soil will also work.
One important thing you have to keep in mind is that soil must be moist but not over watered. Well drained, acidic or neutral are ideal for growth.
If you add mulch, it will give good results by keeping roots cool and soil moist.
2. Water Demand
Japanese maple autumn moon doesn't need too much water.
Weekly schedule is enough for soil to be moisturized but in extreme heat or in dry environment, you can give water as per need.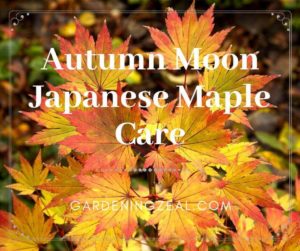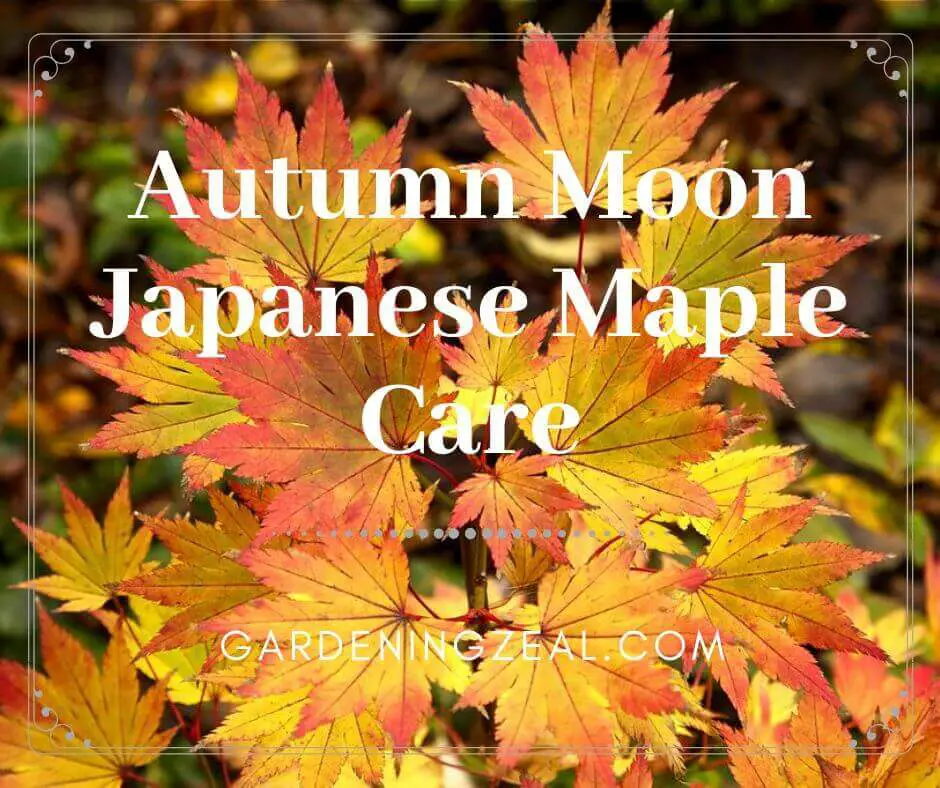 3. Sun Exposure
This small to medium sized cottage garden tree leaves depict wonderful bright fire colors in full sun.
It is bright sun shine to partial shade lover that's why morning sun with afternoon shady place is the best location to grow Japanese maple.
4. Pruning
As far as pruning is concerned, you can prune in dormant season but try not to prune in spring as it may damage plant.
5. Care and Maintenance
Full moon Japanese maple is easy to grow ornamental tree with less care requirements and maintenance.
It can grow to a suitable height without demanding your much attention.
Japanese Maple Autumn Moon Tree – Pests and Diseases
Full moon Japanese is generally not susceptible to variety of plant diseases or pests but sometimes certain problems may dominate.
Full moon root rot, collar rot, verticillium-wilt, leaf spot and canker of stem are the diseases Acer autumn may experience.
Aphid, scales, mites and caterpillars may also disturb plant growth. 
So, after reading all key attributes and given guidelines, definitely you have found that it is not a big deal to beautify your garden with full moon maple.
Now, select a small area in yard and grow this gorgeous plant to enjoy its summer and fall foliage.
Read More: