You must have tried melon but if haven't yet tasted Sugar Kiss Melon, you are missing real flavor.
Sugar Kiss Melon is the sweetest melon with soft juicy pulp melting on the tongue.
Let's begin with brief know-how and understand how to kiss melon different from cantaloupe, nutrition and working tricky tips to pick ripe melons.
Further Reading:
What is a Sugar Kiss Melon?
A melon full of sugar-rich sweetness and yum creamy flavor is "Sugar Kiss Melon". This extraordinary sweet nature makes it eminent among members of its family.
This variety of melon is native to Taiwan and is a rich source of vitamins especially vitamin A and C.
Summer is the peak to have this delicious fruit.
You can eat kiss melon as salad or desserts made from it are exceptional sources of energy. You can enjoy with fresh mint or olive oil with light salt as an appetizer.
Its appropriate size also makes it suitable for breakfast.
A must-try melon it is!
Sugar Kiss Melon vs Cantaloupe
If you are confused about sugar kiss melon and cantaloupe, your concept must be cleared about these.
Cantaloupe is a melon, a variety of muskmelon that may be of two types, European Cantaloupe and North American Cantaloupe.
You can find it with orange flesh and non-netted rind.
Coming towards Sugar kiss melon, it is the sweetest melon you can ever have. It is one of the varieties of melon basically of cantaloupe, with soft and sugar-rich pulp that melts in the mouth.
It is specifically recognized as the sweetest melon with extraordinary juicy flesh. You can easily distinguish sugar kiss melon among other melons as it has netted rind over pale orange pulp.

Sugar Kiss Melon Nutrition
What would be more refreshing in hot scorching summer than sugar kiss melon? Definitely not any other thing can replace such a refreshing and high nutritional content fruit.
In addition to plenty of water, it is full of minerals and vitamins.
Your body will get 25% of vitamin A and 20% of vitamin C by consuming approximately 100 g of kiss melon.
A good source of vitamin A and C is this melon!
It gives approximately 45 calories but not from fat at all. As it is rich in sweetness, major sugar content is 10 g constituting 4% carbohydrates.
Cholesterol level is all time 0 in melon while 1g of protein is added to our diet by this delicious fruit.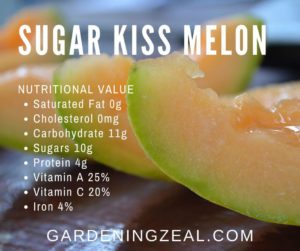 Your body will also get 4% of iron by adding 100grms of kiss melon into the diet.
How to Pick Ripe Melon – 10 Tricky Ways to Pick Ripe Melon
Picking a melon that is ripe and sweet is tricky.
But not be worried, it is tricky not difficult and for the next time you will be able to pick perfectly ripe and delicious melon.
You have to carefully notice the things given below before choosing melon from the market or even from your lawn.
First of all, if you are buying from the market, do not select that is damaged and have cracks or bruises because there would be chances of contamination.
Select melons that are neither too firm nor too soft or have a stem at the top.
Mostly dull-looking melons are ripe than shiny surfaced ones.
Ripe melon especially netted varieties as sugar kiss is fragrant. So, smell it before picking.
Lift the melon and note its weight. If it is heavy, it would be juicier. Yummy!!!
Use your hand to tap the melon. If it sounds hollow, it is ready to be consumed.
You can store melon at room temperature but without cutting.
If you want to place it in the refrigerator, do not store it for more than five days.
Cut melons can be stored in the refrigerator for three days but the place in a container to avoid any contamination.
As the surface of melon contains bacteria particularly Salmonella, wash it properly before use.
Generally, people choose unripe melon without knowing much but after following above mentioned tricky tips and tricks you will always choose sweet and ripe melon.
So, take a moment to appreciate this real flavor melon and enjoy its taste!
Read More: