The blue star fern (Phlebodium aureum) is an epiphytic fern commonly known as 'Golden Polypody'.
This popular houseplant, a member of the oak family, has curly bluish-green leaves that do not shed upon getting old. They prefer to branch into fingers and retain the plant's attractiveness and symbolize star fern.
The interior of the house and your office too need a calm and air to freshen environment. This plant 'blue star fern' equally does justice with its air-purifying powerhouse nature.
You just need to follow blue star fern care sheet guide to freshly grow and maintain without pets and diseases.
Further Reading:
Blue Star Fern Care – Detailed Care Sheet
Phlebodium aureum, native to rainforests of South America, typically grows epiphytically; around stems of trees without damaging that shows this fern needs friendly.
You can easily maintain it by following the simple and easy guidelines that are discussed below.
Before going into a detailed care guide of blue star fern have a look at Phlebodium general summary.
Phlebodium Blue Star Fern Summary
Height: 0.6-1 m
Flower: Non-flowering
Foliage color: Bluish-green
Light exposure: Indirect, partial shade
Temperature: Generally, 15 – 25°C
Soil pH: Acidic 5.6 – 6.0
Soil conditions: Well-drained moist soil
USDA Hardiness Zone
9b: to -3.8 °C (25 °F)
10a: to -1.1 °C (30 °F)
10b: to 1.7 °C (35 °F)
Toxicity: Safe (non-toxic)
1.Best Planting Place
This houseplant grows best in indirect sunlight.
Will tolerate shade.
Good light is most appropriate for the growth of Phlebodium aureum.
If you are placing near sunlight windowsill, it's best to place it behind other plants so, it gets indirect sunlight. That is why ideal for homes and offices.
2. Choose Best Pot
To grow plant best needs appropriate conditions. If you want your fern to be evergreen, select the best pot.
A pot with a drainage hole is necessary as it doesn't retain water and the plant would be safe from root rot.
You can choose a decorative pot, plastic nursery pot, or a hanging planter depending upon the place you selected for this funky fern.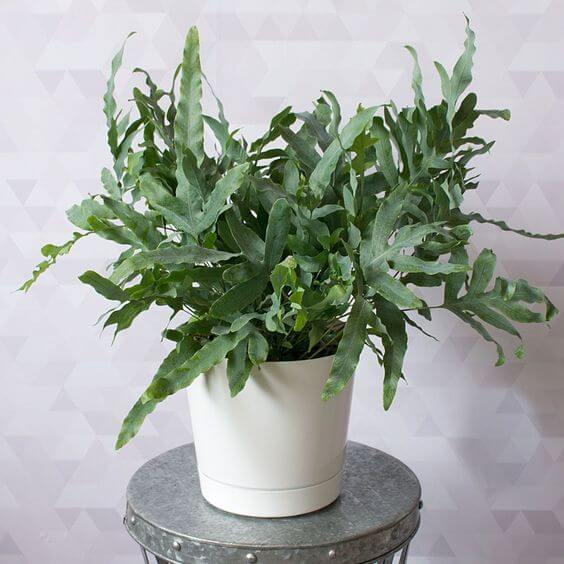 If you have selected decorative pot with drainage hole place saucer beneath so that drained water can go through hole.
Plastic nursery pot will give you option of decorative pot without drainage hole. You have to take fern out at watering time.
Drain at sink.
Hanging planter could be an option but as it is not a creeping fern that tends to hang down. But still give you pleasant look.
There are many indoor planter styles that you can select as per your need or space.
You can place it in your room or at office side table that will give you refreshing and soothing surrounding.
3. Blue Star Fern Soil
A well drained moist soil is best for growth of blue star fern. Natural potting soil gives good results.
Peat based soil mixed with pertile is also suggested but important thing to keep in mind is drainage. If you will not have proper drainage, water logging will cause problem for you.
4. Light and Temperature
Ferns grow very well in bright light conditions. Direct sunlight will damage curly fronds and spoil it beauty . Light sunshine will not cause much damage so you can place where it can get morning sunlight.
This fern flourishes best at 15-25°C (55-80°F).
5. Watering
Phlebodium aureum is native to tropical areas which means they require humidity and moist soil but don't like to be over watered.
Water it once a week a keep an eye on it. When you see its drying water it properly. This plant also needs more watering in growing season and self-watering planters go best.
If you notice plant is not growing, decrease watering and humidify it.
Otherwise, there is no schedule for its watering.
Its ideal to give water from side because it does not like when water is directly poured on rhizome. You can pour water from side.
6. Feeding and Fertilization
Unlike other ferns, blue star fern does not require mush fertilization. You can add diluted regular plant fertilizer at initial stages of growth.
Avoid overfeeding!
7. Resting time!
If your fern is not growing, don't be panic!
Its resting time of your blue star fern. Stop watering it in this time whereas, when you see it started growing, give it water and feed.
Phlebodium aureum Propagation – How to Propagate Blue Star Fern?
You can propagate Phlebodium aureum by dividing its rhizomes, tubers, corms or bulbs. But by rhizome is most easy and simple way to propagate that actually works.
Other methods can give you tough time.
For best and easy propagation:
Clean the tool which you are going to use for cutting
Cut a small fragment of rhizome and make sure that it has various leaves and sprinkle with charcoal
Take a pot with soil in it
Transfer rhizome and make sure roots are lying on soil surface. Not buried!
Water it appropriately to damp the soil
You can repot it if the size of the fern is exceeding the pot. It is ideal to repot this fern in the spring season.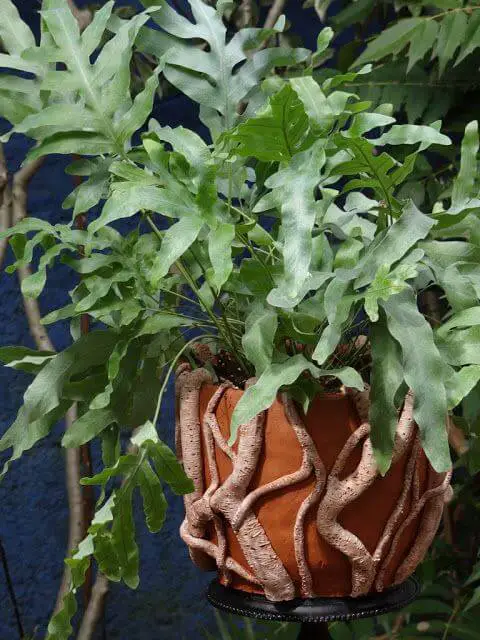 Phlebodium Blue Star Fern Problems
Taking care of this fern would not lead to problems but if you lose care it can cause slight trouble for you.
Too much moisture or poor drainage can lead to root rot
Poor light maintenance – leaves fall off ultimately fern degrades
Might be struck by the scale
Is Blue Star Fern Toxic to Cats?
Generally, ferns are safe. As its rhizome is reported to be a remedy for cough and kidney problems. It is not toxic for animals. Even cats and dogs are not at risk of blue star fern.
You can easily grow in presence of your lovely pets.
Now, by carefully following this detailed care sheet on 'Blue star fern' you can easily maintain your fern. Its place, suitable pot, and all of its requirements are comprehensively described for your funky fern.
Enjoy caring for your fern!
Read More: