Have you ever heard cat grass? Does it sound normal that cats eat grass although they are carnivores?
But yes! Cats not only eat but have craving for cat grass as snacks.
Cat grass is a type of cereal grass that is a healthy indoor garden corner of fluffy kittens. It is must for cat parent who loves gardening.
Being a gardener cat parent, here you will get all the details about what is cat grass, its types, growth conditions, and all the benefits that your cats will have when you will grow your own grass.
What Is Cat Grass?
Cat grass (Dactylis glomerate) is used to describe different types of grasses that cats love to eat as snacks and is beneficial for cats as it helps in digestion.
It also contains vitamins and minerals that the cat needs.
Despite eating meat, they have craving for greenery as well!
It is typically grown from barley, oat, rye, or wheat seeds. This indoor-grown grass is safe and healthy for your cats as compared to outdoor that might contain chemicals or pesticides that are harmful to be consumed. 
So, don't let your cats go outside. Cherish them at home!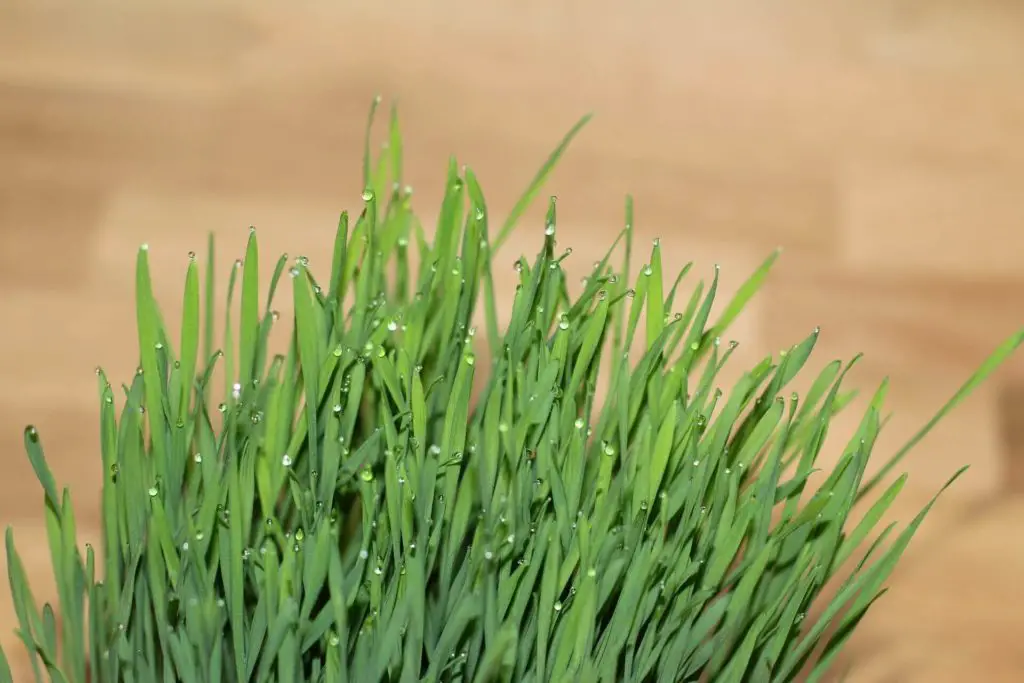 Types of Cat Grass
At stores, you often see packets labeled as "cat grass". What do that packets contain?
It is basically a blend of seeds that grow to cat grass.
In addition to a blend of seeds, you can choose a single type to grow a specific type that your fur baby likes.
Basically, there are four types of cat grass each having a different set of benefits and qualities but each is special for your cats.
Different cats like different grasses.
So, it would be a good idea to try these types and give your cats a variety of greenery.
1. Oat grass
True cat grass is "Oat Grass" having a sweeter taste than others making it more delicious. Oat grass seeds readily give a robust growth for your cats. 
Usually, it requires direct sunlight to grow.
That is why it must be kept in windows facing towards the sun.
2. Wheat Grass
Wheat grass contains a significant amount of minerals and vitamins.
Containing 70% chlorophyll and packed with amino acids, it is not only nutritious for pets but also beneficial for humans to add to the diet.
3. Rye Grass
Rye grass has smaller blades and could be a perfect lounge as a grass tray to play on.
This is more durable and can easily spring back when cats roll in it.
4. Barley Grass
Barley grass is a tall and quickly growing grass that reaches up to 14 inches. Barley grass powder is also well-known for organically rich cat grass. 
It is also a good source of vital minerals, enzymes, and other nutrients that are good for blood circulation.
Is Cat Grass Good for Cats?
Cats like to eat cat grass and it is of no worry.
You must be glad if your cats are craving greenery because there might be some reasons that they want to change their taste from meat to vegetarian.
But you might think how much grass is safe for your cat?
Generally speaking, small doses would be safe.
It depends on your cats that how they respond and how much their stomach allows to be ok.
One thing you must consider is that you provide your cat with safe and healthy indoor cat grass.
As lawns have chances to be contaminated with fertilizers and pesticides.
They would be dangerous for your fur friends.  
This problem could be easily overcome by growing your own grass in sterilized conditions. There would be no worry about pesticides or other chemicals.
You can also give their favorite grass by mixing and blending different seeds and let them enjoy.
Your cat will be happy, you will be happy!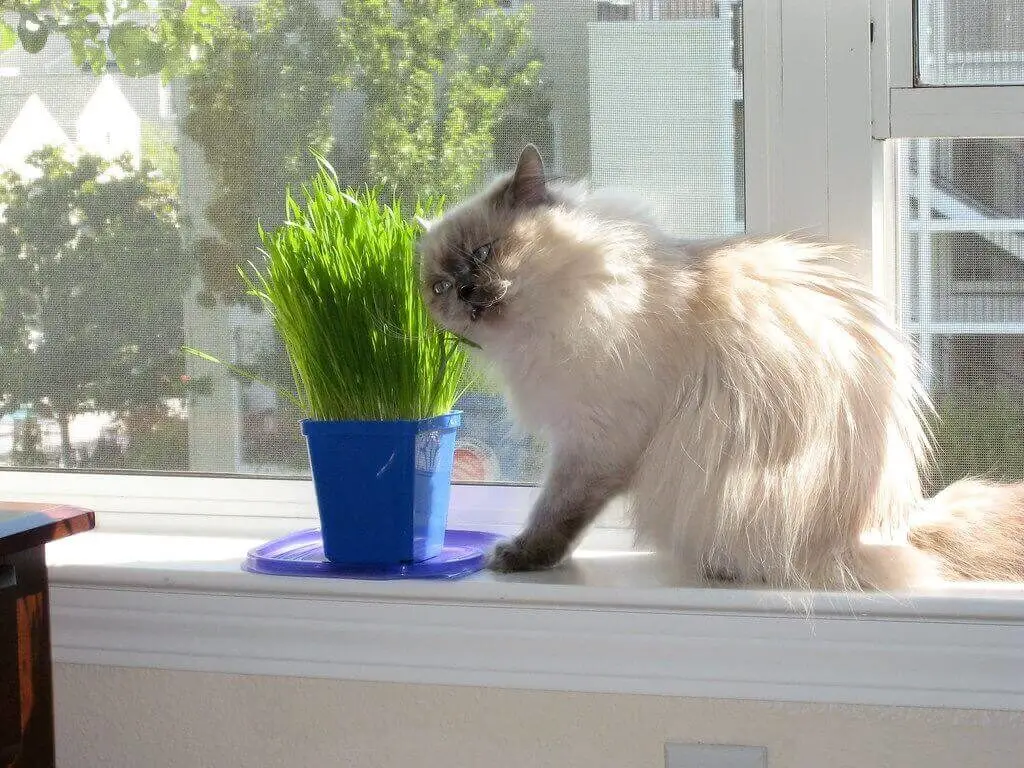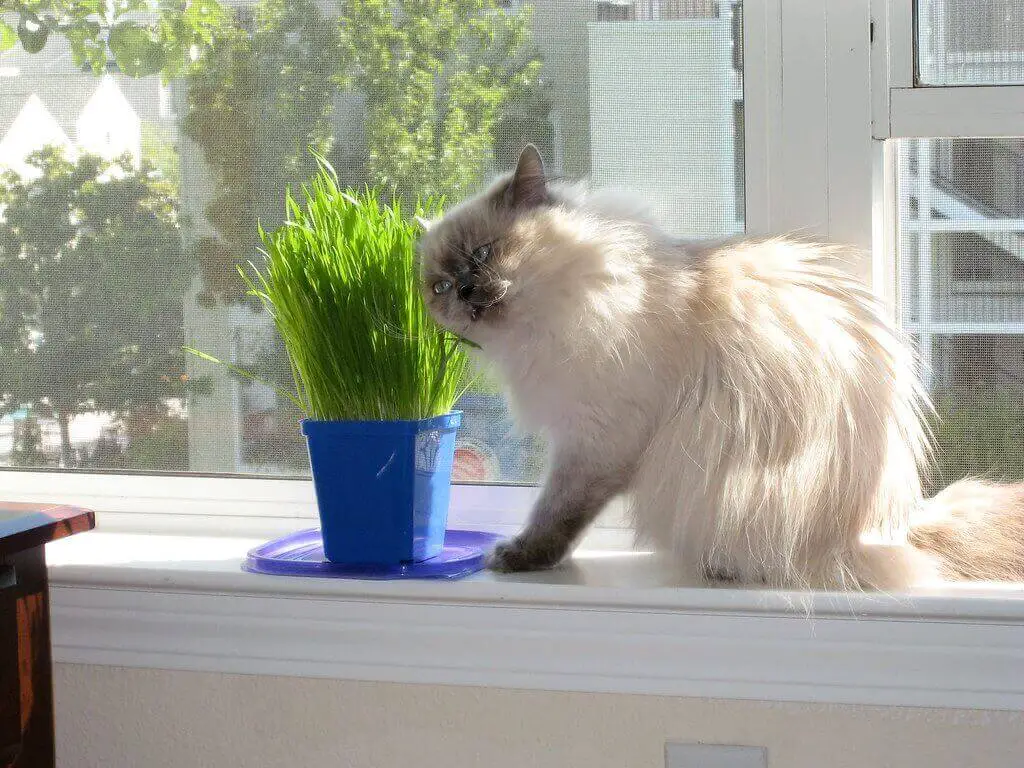 How to Grow Cat Grass?
If you are a pet lover and have little furry cats, you must be very concerned about them.
Cats like to eat greenery as they like its taste and find it relieving.
But what if they eat from outside and get some health issues? Obviously, it would be quite painful for you.
To overcome this issue, you must grow it at your place. Your grown cat grass would be simply healthy and refreshing for your cat.
Growing indoors is quite easy and a fantastic job giving cats healthy greenery in their easy access.
Here is the way you can have your kitty garden:
Things You Need
Before growing cat grass you must collect things you will need.
Check the list whether you are having
An Appropriate Container
Organic Potting Soil, avoid using potting soil as it contains fertilizers that would not be good as kittens play digging soil
Plastic Wrap
Water
Planting and Growth
A simply easy way to grow cat grass indoors is
Add potting organic soil to the container about 2 inches below the top f container.
Sprinkle a handful of seeds over the soil and put a thin layer of soil over seeds to about ¼ inch.
Now add enough water to damp the soil. When you are done with this cover the container with plastic wrap (not too tightly) in such a way air can flow. Place the container ina warm and dark area.
70 0 F is the ideal temperature at which seeds will sprout.
Wait and monitor. Don't let the soil dry.
In two to three days you will see tiny sprouts emerging from the soil.
When seedlings are about an inch high, remove the plastic wrap ensuring that the soil is not dry. Transfer the container to a sunny location so that they can receive direct sunlight.
Windowsill is perfect for this but try not to reach your curious cat.
Just wait for ten to twelve days until grass reaches above 4-6 inches high. If you don't wait cat will surely destroy it very quickly.
Now the wait is over!
Allow your cat to have delicious grass without any further delay. She will enjoy nibbling it!
How to Care for Cat Grass?
When you are done with growth you must follow some very easy tips to keep grass fresh and cat happy:
Watering is very important. As the surface soil dries, gently moisten it with a spray bottle and never let it dry.
Keep the seeds in the soil moist but don't soak.
Try to provide immature grass to cats as mature grass is rough to consume. Grow it in multiple containers at different times to provide cats fresh and healthy grass.
Trim the grass on a regular basis so that damaged or diseased foliage can be removed.
As the grass changes its color and blades turn yellow it indicates improper light. Place the grass in strong indirect sunlight for few hours.
You may also sow the seeds again to grow new grass.
Cat Grass Benefits
Having your garden without a kitty garden corner would be injustice with your kittens as it is a non-toxic healthy snack that cats seek out.
You must grow your own grass because it contains several benefits as:
Contains niacin and B vitamin
Helps in removing hairballs
Source of essential vitamins and folic acid
Satisfies cats craving for greenery
Non-toxic, cats enjoy eating without ruining other plants
Prevents build-up of hairballs in the stomach of cats
Speed up digestion due to high fiber content
Induce vomiting and help to get rid of indigestible matter i.e. prey bones or fur
Keep cats away from hazardous houseplants
Cats do not go outside to fulfill their desire
Hope you find it easy and simple to grow cat grass at your place. You can also manage and take care of your pre-grown grass.
Now you will be tension-free from cats consuming chemically treated outdoor grass. It would be fascinating for your cats too.
Cats will enjoy their garden corner and not go outside!