Dwarf pampas grass is one of the showy perennial pampas grass with the stunning white flower-giving appearance of feathers fixed at the top of the blades.
This stunning ornamental grass is not a big task to grow, even if you have a small garden or want to grow in a pot or container.
You can easily grow and maintain this fine grass by following this guide and can take care of it more carefully. So, without further delay, start exploring 'Dwarf Pampas Grass'.
Dwarf Pampas Grass – Brief Overview
Dwarf Pampas Grass (Cortaderia selloana Pumila) is one of the stunning ornamental grasses with soft and fluffy creamy white feathery flowers that bloom in summer.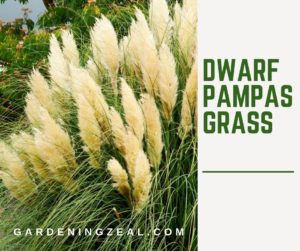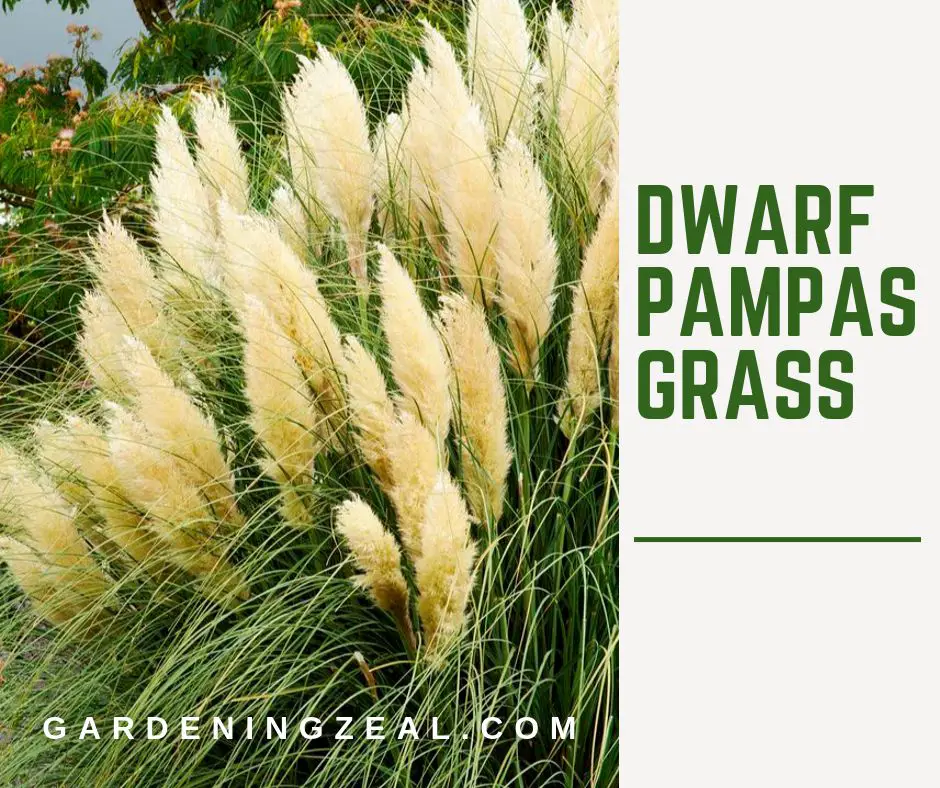 The long fine arching leaves displaying big showy plumes reach a height of 3-6 ft high and 4-5 ft wide. In ideal conditions, it can also reach up to 8 feet giving an outstanding view.
The dwarf pampas grass generally grows well in full sun and is deer and rabbit resistant.
This low-maintenance grass with blooming white flowers is an outstanding solitary specimen best suited for small gardens even along streams, ponds, and fountains that blooms in mid-summer.
The stunning white flower are sterile; not produce seeds, so it does not become weedy like other plants but it is best used in floral arrangements.
This wind and drought tolerant perennial dwarf pampas grass are best suitable for USDA zone 7b through 10.
General Summary – Dwarf Pampas Grass
Height
3-6"
Width
4-5"
Flower
Big fluffy white or creamy
Foliage
Arching green
Soil
Well Drainage (Compost)
Watering
Medium to high in dry condition
Light
Full sun
Hardiness
7b, 8, 9, 10
Flowering
Mid summer
Key Attribute:
Deer and Rabbit resistant

Floral arrangements
Growth Conditions – Pampas Grass
Your desired place where you want to grow dwarf pampas grass depends on your interest and available space but you have to ensure ideal conditions for best growth.
Whether you are growing directly in the ground or in the pot, make sure seeds sow in mid-winter and get proper light because they require light for germination.
You have to use well drainage soil for best growth.
60-70oF temperature is suitable as seeds take almost 2-4 weeks for germination.
The warmer climate is more suitable for pampas grass so; spring would be ideal for a transplant more favorably after the last hard frost.
How to Grow Dwarf Pampas Grass – Pot or Container
Growing colorful ornamental grass into a yard or garden is all time fun.
Pampas grass with ivory feather plume is also widely used in floral arrangements and its feathery white flower when uncut in winter, gives an astounding snowy view.
Growing dwarf pampas grass in the container is as easy as any other plant. Due to its invasive nature and fast-growing habit, people prefer to grow in pots or containers.
If you have a small garden, it would be best showy grass that you can grow under your control.
So, let's begin and grow this extraordinary grass by following step by step procedure.
Pot Selection
First of all, before growing any plant in a container, the selection of an appropriate pot or container is a prime thing.
In order to grow dwarf pampas grass, you have to take a pot with proper drainage with almost 20 inches diameter.
Spot Selection
After the selection of pot, you have to decide its suitable place.
As grass needs full sunlight for proper growth, the same is the case with dwarf pampas grass. So, select a spot in your garden receiving proper light and place your container.
Soil
Compost gives good results in the growth of plants that is why for good organic growth of grass add compost in potting soil with equal proportion and fill up to one-third of the pot.
Root Ball
Place the root ball in the container and cover it with the soil carefully in a way it would not protruding from the pot.
Watering and fertilization
A good watering and timely fertilization add life to the plant. Weekly thorough watering is appropriate but in a warmer climate, if you see soil dried half an inch deep, you can water as per need.
As far as fertilization is concerned, all-purpose 10-10-10 fertilizer is best.
You can fertilize grass when you plant it.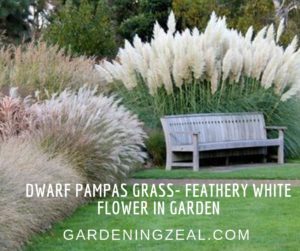 Give a Stable Support
As grass can grow long enough, it needs support at the start when it is young.
Fix a rod or stake in the ground and loosely tie grass blades in a way that keeps them erect and stable.
How to Care for Dwarf Pampas Grass?
When light falls on silvery feathers on top of the grass blades, it gives a superb gleaming appearance in the garden.
If you also want to mesmerize you have to simply follow the given guidelines to get healthy ivory feathers.
First of all, take care of watering because good watering leads to good roots. You have to take an eye if the top is drying to three inches, water it thoroughly until you see water in runoff (if you have grown in pot).
Do pruning in winters or in early spring and cut down up to 5-7 inches.
Add slow-release fertilizer and water after fertilization.
When you see overgrowth of grass, take out the clump to divide. Cut 2-3 shoots containing healthy roots and plant at another place so that it can further grow a wider space.
Remove any dried or non-productive sections of the grass.
If you live in an area where wildfire is common, you have to be conscious while planting near home or in the garden as it is widely flammable.
Growing, maintaining, and caring for plants become easier by knowing right at right time.
Hopefully, it is not too late to plant this lovely grass in your garden so, give a superb look in the shortest time.
If you feel any confusion at any step of growth, feel free to ask in the comments as we want to give you the best of advice.
Read More: