Do you have 'Wine Bottle Fountain' in your yard? What? You haven't heard or ever seen bottle fountain?
This is something you really missed!
Know about it and design your yard.
Wine bottle fountain is a DIY fountain that is a unique element of the garden and you can make it easily. Using empty glass, metallic or plastic bottles, you can design a fountain and add required details with decorative materials to make it elegant.
Here is all about how you can make wine bottle fountain with one or multiple bottles, stunning bottle fountain designs and many more ideas.First, you will get things needed and know the detailed procedure of making a DIY wine fountain. Next are 5 amazing ideas, and in the end, you'll find fountain pump purchase guidelines.
So, don't make a delay and let's start exploring this pro guide.
Make Wine Bottle Fountain Easily
Wine bottle fountain is as easy to make as to relax besides it having a cup of hot coffee on a foggy evening.
Many people style gardens with luxurious fountains or waterfalls that are quite common and lack uniqueness.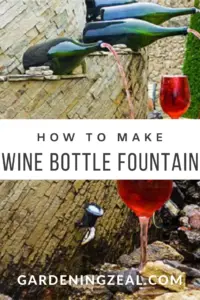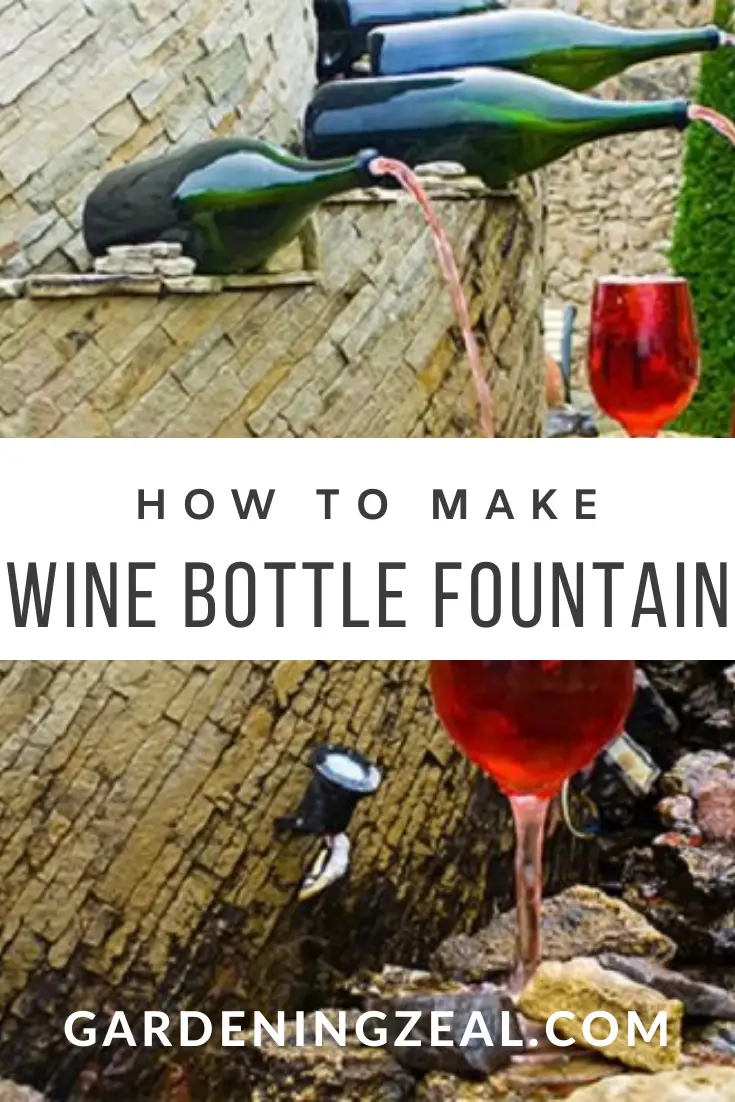 If you want to style your garden uniquely with no expense, you can do with little creativity.
You just need few things depending upon how much you want to decorate the fountain.
So, go in your storeroom and collect all the empty wine bottles or simply glass bottles to make new out of them.
You can use as many wine bottles as you want to make eye-catching fountain. Simply one bottle can also help to make wine bottle fountain. The rest of the decoration depends on your taste.
So, let us begin our creativity!
Things you need
Wine bottles
Wine or cocktail glass
Fountain pump – Electric or Solar
Power supply
Basin – Optional
Tubing
Decoration rocks/ marble or anything you have or want to add in decoration
Wine Bottle Fountain – Project Details
Creating a DIY garden fountain gives wider opportunities to use multiple things in different ways, but the principle is the same. Here you will get basic details of wine bottle fountain and modify it as per your need.
Drilling Glass Holes
Drilling holes in the glass bottles is the first thing before stepping into the garden to make a fountain. It seems to be daunting, but diamond bits make it easier and practical. Diamond bits are glass, granite, or marble cutting tools that effortlessly drill holes in the wine bottles.
So, invert the bottles, and make holes. Use diamond bits gently and go slow without forcing it. Also, keeping the bit wet makes cutting smoother.
Bear in mind diameter of the holes should be equal to the tubing you choose. Wider holes may leak or result in malfunctioning.
Pro Safety Tips
Glass drilling can prove to be risky as cutting heats up glass and possibly crack in your hand. So, wearing gloves is the best approach. Secondly, wear safety glasses to prevent eyes damage.
Pipe Assembling
When bottles are ready and you have decided on the fountain layout, next is the assembly of the pump. It is quite simple.
If you already have a fountain pump, that's great. But if you want to buy, make sure you have checked electric, and solar-powered fountain pumps available at the end of this article.
So, there would be two pump areas; input and output. The input side would be attached to the water reservoir and ensure it stays clean.  Once it is clogged, the pump power will decrease.
On the other hand, the output side is to supply water to the fountain. You can directly attach it to the wine bottle or use multiple tubing for each bottle. You may either get this fountain tubing with the pump or buy it from any hardware store.
Pro Assembly Tip
If you find the pipe is somewhat loose or holes are larger, use clear silicone sealant to adjust it. You can also use it otherwise to hold the tube firmly.
Add Details to make it Attractive
You are almost done with major DIY wine bottle fountain work. Next is its embellishment. You can use decorative garden stones, rocks, or pebbles. Adding garden statues in DIY fountains shows next-level creativity.
You can also make the fountain more interesting by adding any color to the water. Red is the most favorite and gives a stunning look.
You can also use more than one glass bottle placed in a way that water spills over them or splashes over glasses.
Aditionally, place a deep cemented sink or basin, if you want, to keep the fountain on ground level. Otherwise, you can sink it into the ground, but it should be deep enough to support water flow.
More Ideas of  Bottle Fountain
So, now you are able to make bottle fountain easily on your own by using empty glass bottles or wine glasses.
You can position it at a most visited place or in center as it attracts everyone's attention.
In addition to this simply easy fountain idea, here are some more ways to decorate the garden with glass bottle fountains.
Just have a look and decide which one you are going to use!
Designing bottle fountain with colored water flowing out and splashing on glasses gives an exclusive fountain look.
1. Center Stand Style
First of all, decide on a centric garden place and design its structure to place bottles and glasses.
It is a detailed fountain with multiple fixtures and stands. You may also need a helping hand to make this arrangement.
If you are not interested and want to keep it budget-friendly, too, minimize the massive stonework and go simple. Using bricks is also an option.
So, make the structure as you want, follow the project details mentioned above, decorate it with marble and rocks to give it an ecstatic look.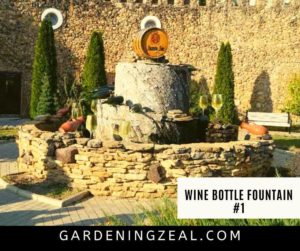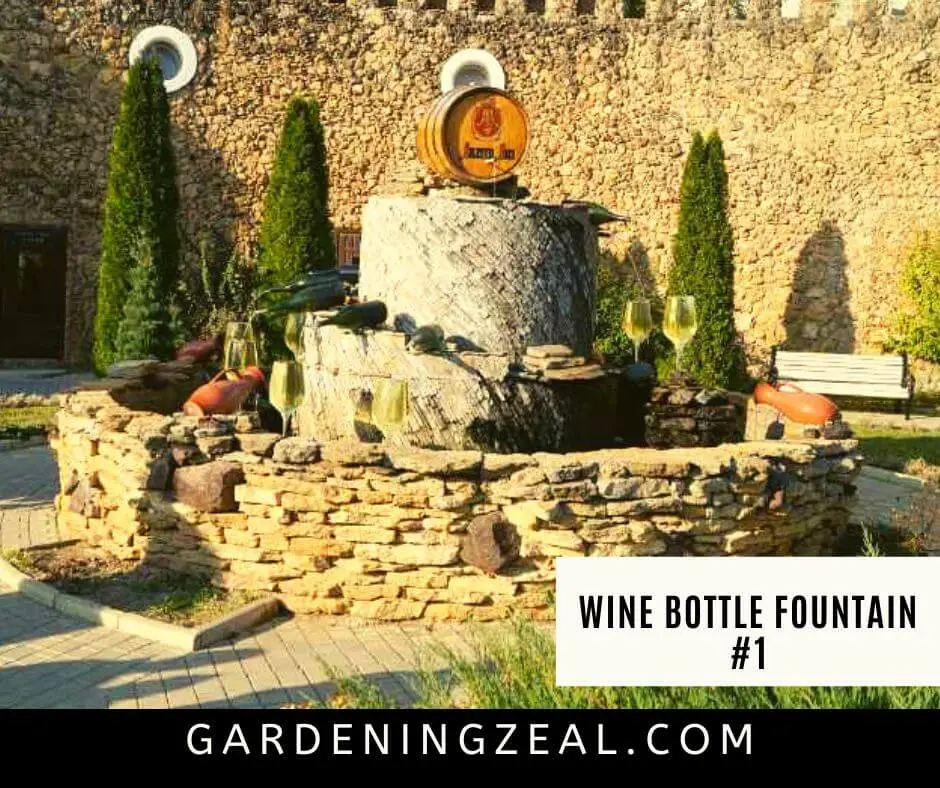 2. Rack Fountain
Furthermore here is another way of using bottles to make a fountain in a rack.
This is a relatively simple and inexpensive garden fountain. All you need is a stand and few empty bottles. If you don't have a wine bottle, no worries. You can also use plastic or metallic bottles with labels to place in the fountain.
A plus point of this fountain is bottles are appropriately held in the frame and can not fall.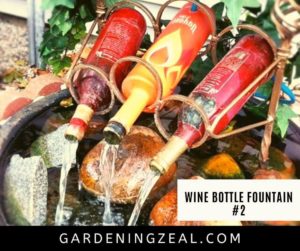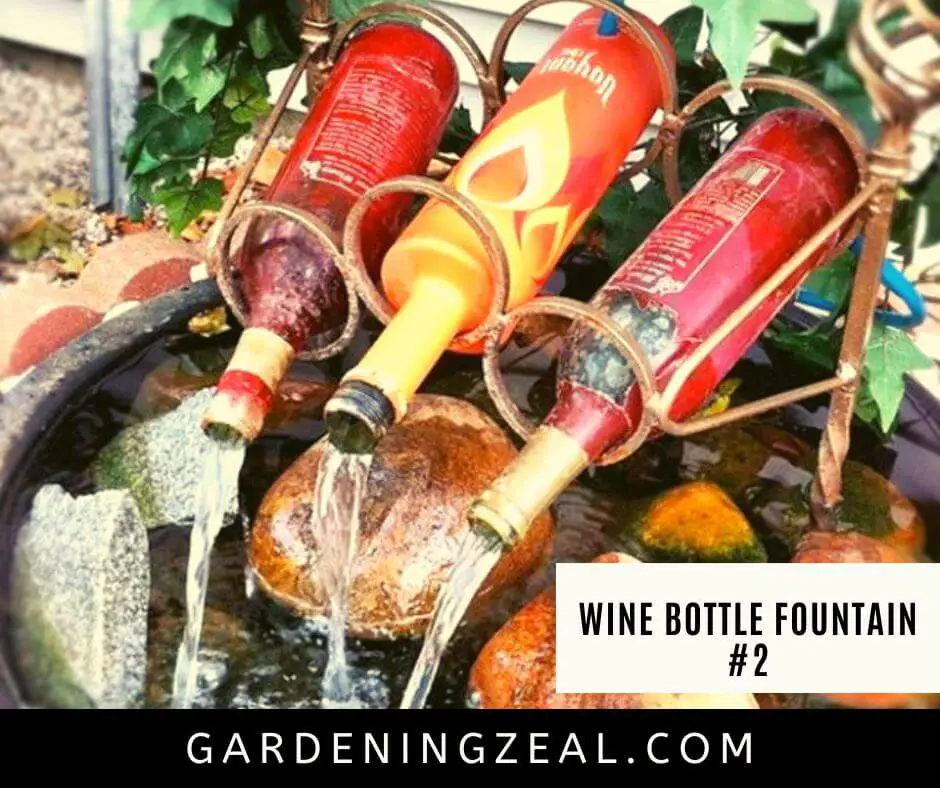 This is the best creative fountain you can ever have!
3. Waterfall Wall Wine Fountain
If you don't have empty bottles right now, start collecting and make this fountain at the front that will give your garden wall a great running water look.
Stack all the empty bottles in a corner with
In this style, you don't need to drill holes in all bottles. Instead, decide how much fountain water flow you want. Maximize or minimize as per your wish and make holes in desired bottles.
Stack them all at your desired place and hold firmly with any sealant or sassing to prevent bottle slip. Next, take a basin, fountain pump, and do the same to make this fountain.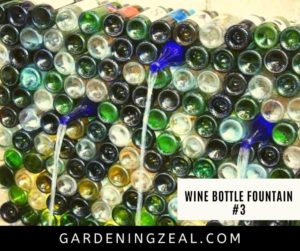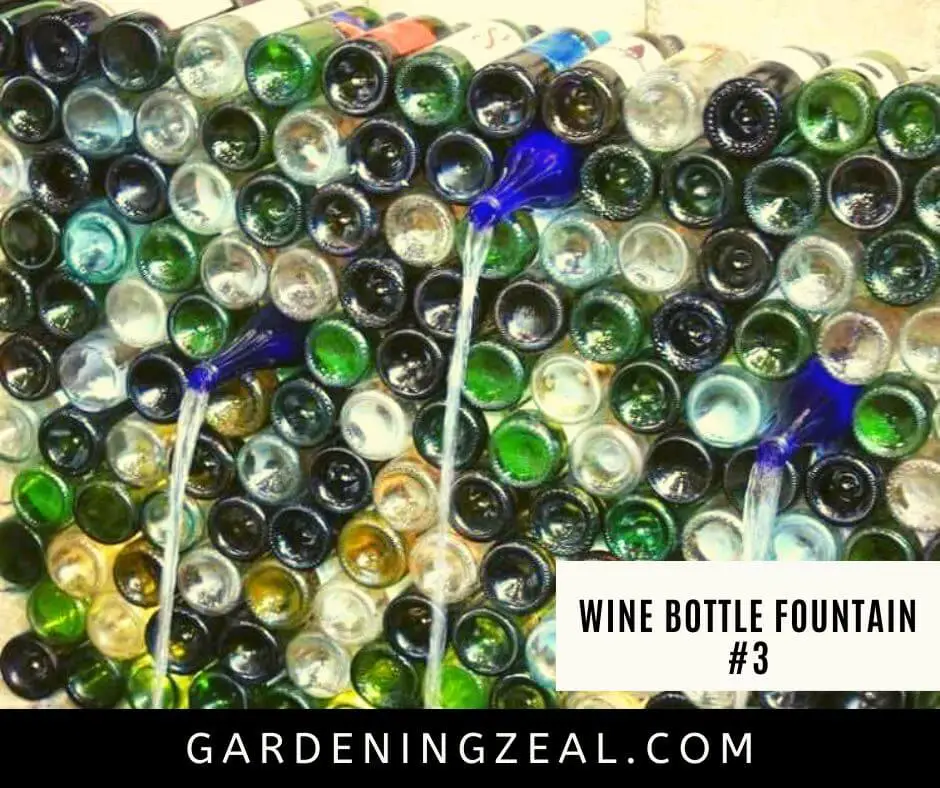 4. Barrel Fountain
Here is the simply elegant use of wine bottles to make a fountain. Just take a barrel and drill holes by measuring the diameter of the bottles you are going to use.
Adjust bottles in barrel. Give them supply and finally enjoy your creativity!
You can also bring character to this idea and add flowers or leaves to the water-filled barrel.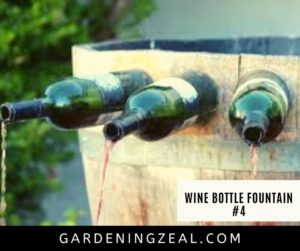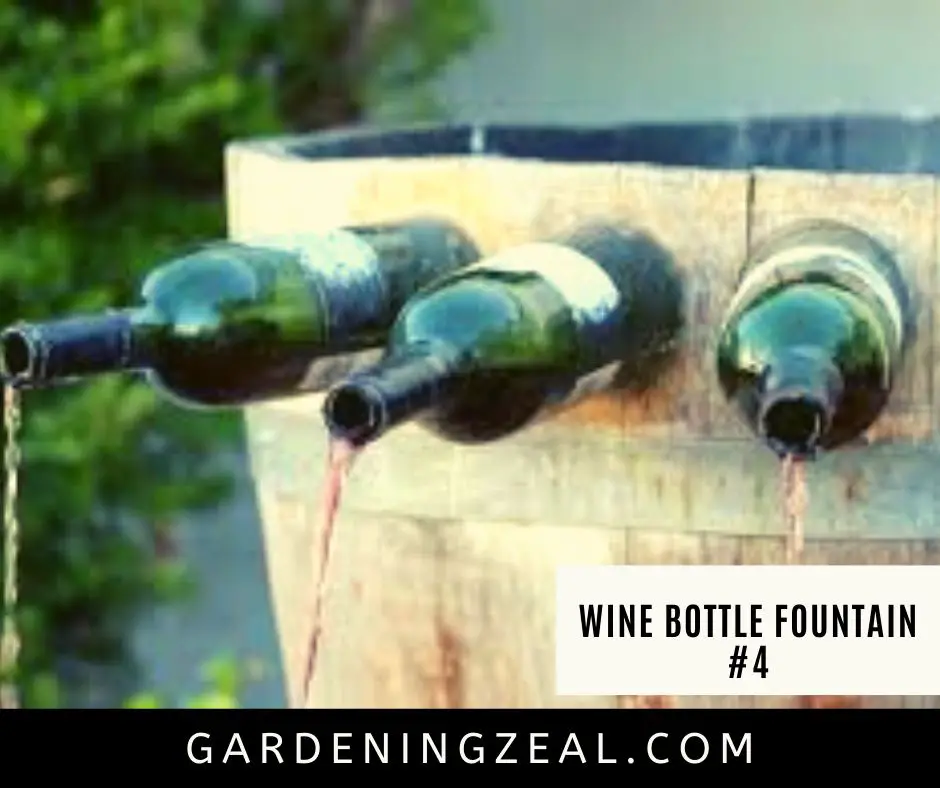 5. Center Stone Style
You can make a totally different fountain at a garden corner by placing a big stone beside the bottle and decorate it with stones.
If you have a big stone and don't sure how to utilize it, it is the best way. In fact, you can also buy this extra-large garden stone to make this fountain.
Certainly, the falling water will give you a relaxing sound.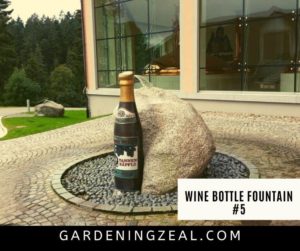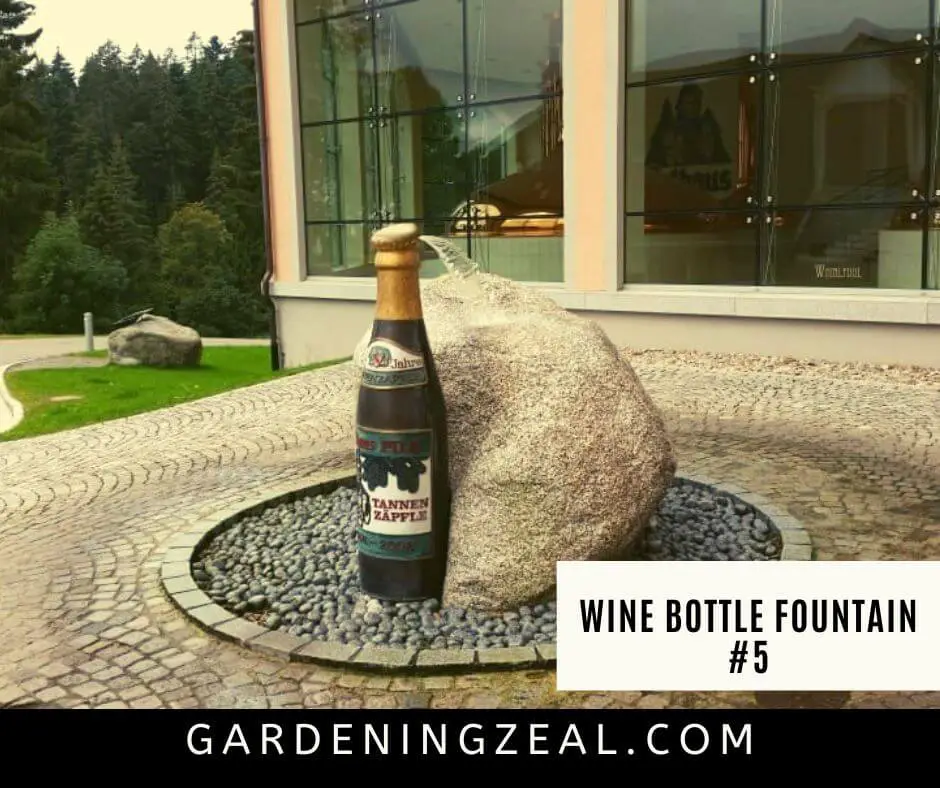 DIY Fountain Pumps – Purchase Guide
Fountain pumps come in a wide range of varieties, and each seems to be good on first look. But this is not the case. You must carefully research their types and see what good water pump must-have.
So, you can find this all in the subsequent headings.
Submersible VS External Water Pumps
Generally, fountain pumps are of two types, Submersible, and External water pumps. As the name suggests, submersible pumps can be used in a moist environment without affecting performance. But external pumps' motors must not come in contact with water.
Some other differences between Submersible and External water pumps are:
| Submersible Water Pump | External Water Pump |
| --- | --- |
| Submerged in water | Needs dry spot |
| Easy to install | Difficult to install |
| 50 to 5,000 gallons of water per hour | Handle 1,000 gallons of water per hour |
| Low maintenance | More maintenance - Moisture risk |
| No noise | Noisier |
| Consumes less energy | Consumes more energy |
| Cheap | Expensive |
So, preferably, buy a submersible water pump for a DIY garden fountain and use it without being worried about water contact and electricity consumption.
Here, you can find the best fountain pumps with excellent qualities:
Image
Product
Details  
Pricing
5ft Power Cord Submersible Water Pump
Flow Rate: 800 GPH (3000L/H)
Lift Height: up to 10 ft.
Power: 24W
Voltage: 110-120V
Check Price
6.5ft Power Cord Submersible Water Pump
Flow Rate: 400 GPH (1500L/H)
Lift Height: 6.56ft/2m
Power: 25W 
Voltage: 110 V-120V/50-60Hz
Check Price
5.9FT Power Cord Submersible Water Pump
Flow Rate: 550 GPH (2000L/H)
Lift Height: 7.2 Ft (2.2m)
Power: 30W
Voltage: 110-120V
Check Price
Solar Powered Water Pumps
These pumps utilize sun – solar energy to flow water in the fountains. Solar-powered water pumps give a considerable advantage of no electricity cost with easy to install features. They are also inexpensive and require low maintenance.
There are batteries with solar pumps to make the process smoother and store excess power received during the day.
When the sun hardly arises on cloudy or rainy days, these batteries help to work in such conditions. Although it is for a limited time, still incredibly assist in low days. You can also supply solar power to the bird feeders.
Above all, a single investment for buying a solar water pump gives comfort forever, and you forget the electricity bill.
Here you can find multi-featured solar-powered water pumps:
Image
Product
Details  
Price
Solar Powered Fountain Pump
Features: 6 different nozzles
Nozzle base and head
Spray height: Can reach 30-50cm
Check Price
Solar Fountain Water Pump
Features: 7 nozzles
Solar panel with pump
Anti-collision pole
Fastener
Spray Height: 12-20 inch
Check Price
Solar Bird Bath Fountain with Panel
Features: High-quality rotor
Service life: up to 10,000 hr.
IP65 waterproof design
Withstand all kinds of severe weather
Spray Height: 45-65cm
Check Price
To make something stunning out of crap is worth applauding. When you put all of your efforts to make new things that people gaze is your silent triumph.
So, don't hesitate and make the best use of empty bottles to design a wine bottle fountain. It is not only cheap but helps to contribute and to spend time in the garden. Before starting, make sure to use the best fountain pump to keep it running all the time.
You just need to think differently and create wisely.
Yes, make something that matters!