When to harvest jalapenos? When there are chances of heavy rainfall or frost, it is the ultimate query of gardeners. The answer is simple.
Jalapenos are ready to harvest when 3 to 5 inches long, are firm and fat with a bright green coloration. First, jalapenos are light green, then brighten up and turn into dark green, black, and red at complete maturity. Jalapeno peppers take about 3 to 4 months to reach firmness and get ready to harvest.
So, don't lose massive harvest and get apparent signs of mature peppers, weather impact, and most importantly, how you can make jalapeno harvest without damaging plant with pro tips.
Let's dig in!
When to Harvest Jalapenos?
Jalapeno peppers (Capsicum annuum), need 3-4 months or almost 90 frost-free summer days to reach maturity and develop favorite spicy flavor 1.
They do not like to sit in the frost, and you must keep an eye on the weather forecast on jalapeno harvesting days.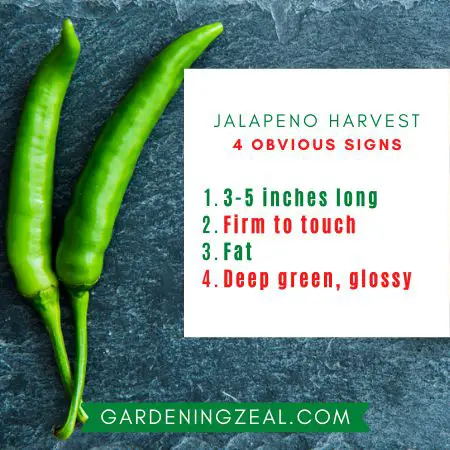 You need to be observant and inspect jalapeno fruit time by time as it is easy to judge the jalapeno stage of ripeness from the appearance.
During the growing season, you will see peppers light green, and after a few days, they will turn into darker green, almost black, and finally red.
These color changes are clear indications of the harvesting stage, and you must know the signs of the jalapeno harvesting stage.
Signs of Ready to Harvest Jalapenos
These are 4 quick signs to get jalapenos stage of ripeness. A jalapeno should be
3-5 inches long
Firm to touch
Fat
Deep green and glossy
Some other signs are:
Your God gifted senses, sight, touch, and taste are three prime sensors for assessing whether jalapenos are mature enough to be served in a platter or not. If they have a green sheen, are tough, and taste spicy, it means they are ready to harvest.
Mature jalapeno peppers develop small cracks on the sides towards the stem. Examine the shoulder sides of the peppers, and if you identify such cracks, don't keep them hanging over the plant and cut nicely.
Another good sign of mature jalapenos is the Corking. These are tiny white lines on pepper's skin and are entirely safe to eat. When your jalapeno plants show such lines, harvest peppers immediately; otherwise, the chances of rotting will increase or eventually fall off the plant.
Bear in mind that all fruits on a single jalapeno plant would not be ready to harvest at the same time.
Ensure checking all plants or developing peppers weekly so you can harvest each fruit at the right moment.
Jalapeno Harvest Season
Jalapeno harvesting mainly depends on the plantation time. You can plant in the spring, March-April, or fall late July-August by direct seeding or transplanting.
Similarly, the jalapeno harvest time varies. If you have planted in spring, the harvest will occur in June. For fall jalapeno planting, the harvest will begin in Oct and last until the first frost.
Direct Seeded Jalapenos: Approximately take 110 to 120 days to mature.
Transplanted Jalapenos: Approximately take 75 to 85 days to mature 2.
The jalapeno harvesting season is a treat. You have different flavors of jalapenos and easily enjoy mild to spicy jalapeno flavors by picking at different times.
If you are craving heat and sweetness in the peppers, let them be on the plant until they turn red.
But if you want to make jalapeno pickle, crispy and crunchier peppers are the best. So, pick green, firm, and tough jalapenos to make a mouthwatering pickle.
Jalapenos Harvesting and Weather Concerns
Jalapeno plant is frost sensitive, and extremely low temperature can kill fruit, plant, or both.
The jalapenos and other peppers weaken when the temperature is between 40 and 60 oF. Even the leaves and fruits blacken and collapse when the temperature drops to 32 oF 3.
In fact, light frost kills plants and ruins your efforts.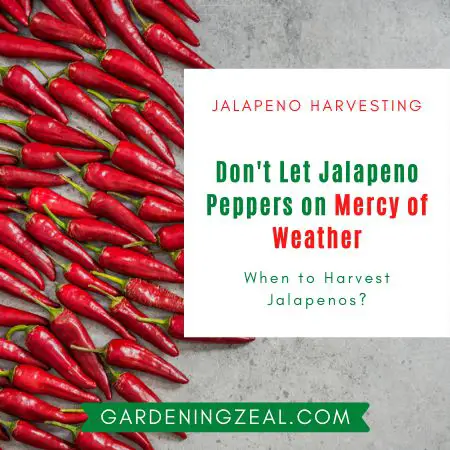 Don't go by frost risk and do preventive measures to keep your plant healthy and alive.
An excellent way of protecting plants from frost damage is covering plants with row covers. You can cover plants at night and uncover them in the morning.
If it is your first experience growing peppers, you might not have considered soil temperature, but it is as vital as the air temperature. When growing peppers, be sure the soil is warm.
Covering the soil with black plastic keeps the soil warm and helps to produce a massive jalapeno harvest.
Pro Tip: When the temperature is severely damaging for the jalapeno plant, uproot the entire plant and hang it in a protected area to completely mature. It also prevents late-season peppers from frost damage.
How to Harvest Jalapenos?
After getting your jalapenos are ready to be picked, don't make a delay and harvest properly. If you leave ripe jalapenos on plants, chances are mold or other fungal diseases attack and result in massive loss. So, be productive and know how to harvest jalapenos without damaging the plant.
Follow these guidelines without skipping any step and fill your bucket with crispy jalapenos.
First, identify ripe peppers. Harvesting unripe jalapenos are of no use so, be careful in targeting only matured peppers. Before stepping into your garden, make sure you have gone through the signs of harvestable jalapenos mentioned at the article's start.
You can see jalapenos drooping downwards with bottoms pointing towards the ground. Hold the branch near the pepper, and gently pull the pepper upwards. You will see ripe jalapenos are pulled off effortlessly.
An excellent way to harvest jalapenos is by using garden shears or a sharp knife. This approach prevents damage to the peppers and encourages more jalapenos on the plant.
Pull off jalapeno peppers from all the plants and collect them in a dry basket as moisture can rot your massive harvest.
Eat them raw, bake with stuffed cheese, make a pickle, or store them for later use.
It is all up to you!
5 Pro Tips to Harvest and Store Jalapenos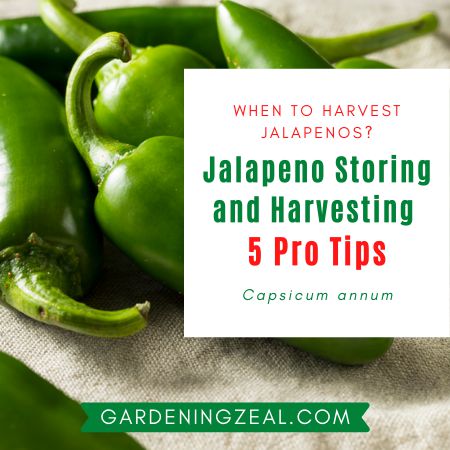 Don't twist or tear the stem of the jalapenos as properly ripped peppers come off without any hustle.
Wear gloves when harvesting or handling jalapenos as capsaicin content in these peppers can irritate your hands, eyes, mouth, or nose 4. If you are exposed to it and feeling irritated, rinse the exposed area to water or cover it with a milk-soaked towel 5.
Storing jalapenos is fun. There are countless ways to preserve jalapeno peppers, but dehydrated peppers last for a long time and give a better taste. You can use dehydrators to make the fully dry. Commercial dehydrators are expensive. It is better to buy an economical dehydrator for your kitchen needs.
You can optimally store peppers for two to three weeks at 50 to 55 oF in 80% humidity 6.
Use crisper drawer for storage of harvested jalapenos in a bag for up to two weeks.
FAQs – Jalapeno Harvesting
Are Jalapenos Hotter When They Turn Red?
Red jalapenos are comparatively mature and hotter for capsaicin, the compound responsible for hotness. Capsaicin continues to produce in all peppers around the season. But red peppers are older than greens and contain more capsaicin content, resulting in intense flavor and extra spicy peppers.
Why Are My Jalapenos Dying?
A common reason for dying jalapenos is improper watering. Overwatering is the main culprit as pepper plants wilts and dies in excess water. Too much water also results in root rot, other fungal diseases, and caries away essential nutrients needed for healthy plant growth.
Will Jalapenos Ripen After Picking?
Jalapenos continue to ripe even if you make an early harvest and turn into red or dark green. Simply place them on a south-facing window and allow indirect sunlight or place them at room temperature in a basket for about one week. Be sure to check and turn around peppers to discourage any rotting periodically.
Why Are My Jalapeno Peppers So Small?
If your jalapenos are not growing big, provide ideal growing conditions. Ensure the plant is in full sun and receiving enough light without any blockage. Water appropriate, and don't let them sit in soggy soil. Growing different jalapeno varieties like Mammoth jalapeno peppers also give bigger peppers.
Are Jalapenos Good For You?
Jalapenos are packed with nutrition and provide vitamins A, B, C, and K. They are also a good source of potassium and folate. Jalapeno peppers also contain carotene, an oxidant that keeps your cells revived and help them fight against any damage. These peppers have a spicy flavor for compound capsaicin that has many health benefits.