Why is Venus fly trap turning black? Do they need extra care as compared to other houseplants? These are some most common queries of plant lovers.
Venus flytraps (Dionaea muscipula) are quite different from other house plants. They need extra care when it comes to their growth. Overfeeding and wrong weather conditions are the most common causes for a Venus flytrap turning black.
So, don't let your plant die early and learn how to keep your plant healthy and green. The steps are pretty easy but will have a significant impact on the plant's health.
Let's get started with some basic knowledge about the plant.
Why is Venus Fly Trap Turning Black?
This insect-eating plant is not only attractive due to its unique properties but is also hard to maintain. Most people find it challenging to keep a Venus flytrap healthy.
One of the main reasons for a dying Venus plant could be its limited lifespan. On average, a plant dies after living 20 years.
However, the Venus traps only live for about 3 months and turn black after that. Healthy leaves replace the black leaves. If this happens, then there is nothing you should worry about.
But, if the traps are turning black without replacement and the plant is dying at an early stage, then there could be one of the following reasons:
Unsuitable Growth Conditions
Growth conditions for a Venus flytrap are different from other houseplants. Unlike most plants, it takes some nutrients from the soil and the remaining from eating insects. Most probably, you may be doing wrong such as:
The first mistake you might be making is planting Venus flytraps in the regular soil. They grow best in acidic soil and have minimum nutrients.
Another mistake you might be making is adding fertilizers to your flytrap plant. Venus flytraps are habitual of growing on their own. Being from the species of wild plants, they are habitual of fulfilling their nutrient requirements from the environment.
Therefore, adding fertilizers can be one of the reasons for your Venus flytrap turning black.
Venus flytrap is also sensitive when it comes to the water that you are using. Water containing excess levels of TDS is not a healthy choice for your flytrap plant. It can cause the leaves to turn black and shorten the plants' life.
 As long as the TDS level is less than 50 ppm, there wouldn't harm the plant. But usually, tap water contains a high level of total dissolved solids, negatively affecting the Venus flytrap.
Dormancy – Venus Fly Trap Turning Black
Like all the other plants, the Venus flytrap is also a seasonal plant. Some plants bloom in summers while others in autumn. Venus flytrap is not a winter-friendly plant.
You might notice that the traps on the plant start getting darker as the weather gets colder. This is the beginning of its dormancy period, which lasts for 4 months.
This period varies depending on the duration and harshness of the winter season in the area.
Indigestion
Sometimes the flytrap might eat an insect that is too big. When an insect gets inside, the trap mouth closes for digestion.
But if the prey size is greater than the trap, its legs stick outside, preventing it from closing. This causes indigestion, and as a result, its color starts to turn black.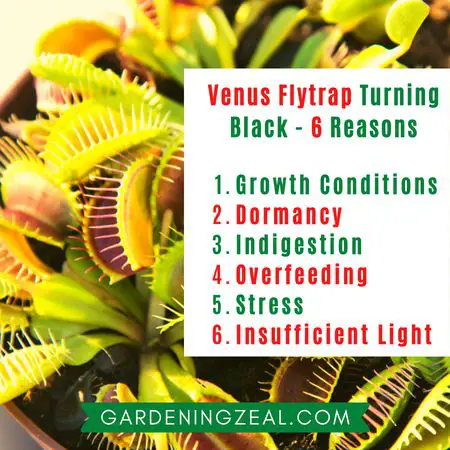 Overfeeding
A Venus flytrap turning black can sometimes be a clear indication of overfeeding. It happens when you feed your plant by hand. Feeding each trap of the plant will require a lot of energy from the plant to digest the food.
This will eventually result in black leaves. Also, hand feeding your flytrap will result in excess nitrogen, which is not suitable for plants' health.
Stress
Plants are also living beings and can get affected by the environment in which they are grown. Growing a Venus plant in a place with continuous movements can cause stress.
This results in the immediate death of the plant. If you frequently repot your plant, then it can result in "Repotting stress."
Insufficient Lightening
Venus flytrap plant uses the sunlight to survive. The light from the sun is a source of energy it uses for digestion and other processes.
The ideal light requirement for a flytrap is 12 hours per day. Less intake of sunlight can cause the traps to turn black.
It might not die immediately but will start to weaken slowly. Leaf edges turning black are a clear sign of light deficiency.
 How to Save a Venus Fly Trap Turning Black
You can take specific measures to control your Venus flytrap turning black. Here are some solutions to ensure plant health:
Venus flytraps can be used to less nutrient soil. They cannot bear soil having minerals and nutrients. To keep your plant healthy and green, use peat moss or long-fiber peat moss.
The flytrap plant is wild and therefore doesn't need added nutrients. Adding fertilizers can damage your houseplant instead of nurturing it. When it comes to the use of water, never use high TDS level water. To ensure the healthy growth of your flytrap, use distilled water in place of tap water.
Venus flytraps need an adequate amount of sunlight to perform various processes. Place the plant pot in direct sunlight. You can also use artificial lighting to provide the plant with suitable light conditions.
Place your flytrap plant in a place having minimum movements. Also, avoid frequently changing the plant location. After changing the place of your plant, allow it to settle in the new environment.
Cut the black leaves of your Venus flytrap plant. Removing the dead leaves from the plant will save the remaining plant from turning black.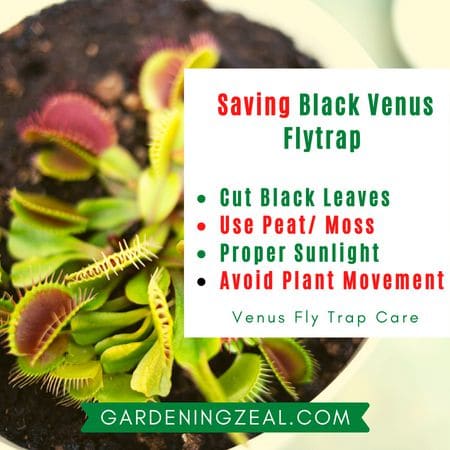 How to Remove the Dead Leaves from the Venus Flytrap?
 You should be extremely careful when removing a deadly trap from your Venus flytrap. Below are some essential steps you must follow to cut the dead leaves without damaging the plant:
Ensure to use a sharp knife or scissors to cut the death traps. Removing the trap with hands can pull out the roots, and the plant can die.
Cut the death trap at the closest point from the bulb. The closer it is to the bulb, the lesser is the stress on your flytrap. But do not damage the bulb while trimming your plant as it is susceptible.
Cut all the dead leaves at once so that the plant has to bear less stress. You should remove the traps that might be resisting the growth of healthy traps.
FAQs – Venus Fly Trap Turning Black
Why Should I Remove the Black leaves from the Venus Flytrap?
Black traps can cause strain in the plant, which affects its growth. This also causes the growth of bacteria and mold on the plant, which is bad for the plants' health.
Why Are the Leaves of my Venus Fly Trap Turning Black after Getting Proper Care?
Venus flytraps die after living for a certain period. An average flytrap lives for about 20 years before dying.
Each trap on the plant lives for only 3 months approximately. After completing the lifespan, traps start turning black before the complete death of the plant. So, even if you provide the flytrap with all the right growth conditions, it will still die.
When to Cut the Black Leaves of my Flytrap?
The edges of a flytrap leaf start turning black before it dies completely. Black edges are a sign that the trap is still able to perform photosynthesis. Wait until the trap dies, and then you can remove it from the plant.
Can I Use Fertilizers to Improve The Health of my Venus Flytrap?
Using fertilizers is not recommended for them as it is the main reason for a Venus flytrap turning black. As a beginner, you should strictly avoid it. But when you gain some experience with its growth, you can use fertilizers in its growth period. You should only use weak fertilizers to improve the health of your plant.
What is the Difference Between a Black and Yellow Trap?
A black flytrap is harmless and completely normal. It is usually a part of some natural process. Yellow leaves are not harmful when limited in number. But if there is a regular pattern of traps turning yellow before dying, there could be some problems. Yellowing of the traps is usually due to a rotten root or improper growth conditions.