Is your string of hearts plant not producing marbled green leaves or is dying? If it is so, make sure you are taking good care of it.
String of hearts plant is easy to take care and needs some basic growth conditions to be fully green, vibrant, and healthy. Give water when soil is dry, place in bright light, and maintain ideal temperature and humidity level to make it all alive. Don't forget to fertilize once a month with diluted fertilizer.
Here you will get all about string of hearts watering, light, best place, temperature variation during winters, fertilization and problems in detail. Above all, 3 different modes of propagation are also given.
So, don't let your precious plant suffering and take good care of it. Let's go!
String of Hearts Plant – A Brief Intro
String of hearts plant, Ceropegia wodii, also known as chain of hearts or rosary vine is an evergreen, succulent trailing vine. It is native to South Africa, Swaziland and Zimbabwe.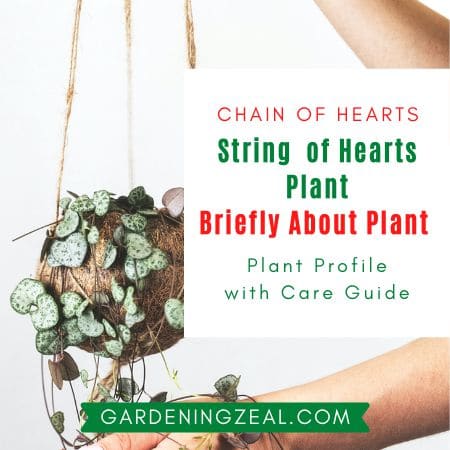 This magnificent plant with heart shaped dark green leaves has made us all spell bound for its cascading leaves. The leaves with variegated silver margins make variegated string of hearts plant eye-catching.
It is one of the most tolerant houseplants you can ever grow and it can grow up to 2-3 inches tall. The stem of chain of hearts also grows long and can reach up to 3-9 feet long. So, this evergreen plant is perfect for planting in hanging baskets or plant in a glass pot placed on a windowsill.
String of Hearts Profile
 ?‍?

 

Scientific Name
Ceropegia woodii

 

✅

     Common Name
Rosary vine, Chain of hearts, Hearts-on-a-string Collar of hearts, Sweet heart vine

?

       Type
Succulent, Vine
 

⬆⬆

       Height
3-9 feet

↔

         Spread
2-2.5 meter

?

      Foliage
Variegated green

?

       Flower
Purpulish Red

⚡

       Blooming Season
Summer, Fall

⛪     

Suitable Place
Indoors

?

          Soil
Well- draining

?  

Light
Bright, Indirect

?

        Water
Moderate

?     

Temperature
80 – 85 oF
    Fertilization
Infrequent, Dilute fertilizer

?     

Zone
9 to 12 USDA

?     

Toxicity
Non-toxic

?     

Uses
Ornamental plant
How to Care for String of Hearts?
String of hearts care is as simple as any other indoor plants. You just need to provide balanced or ideal growth conditions to make it fuller and healthier. Here is easy to follow care guide for your beautiful string of hearts.
1.      Watering
Watering routines are also helpful in growth of your string of hearts plant. Before giving your plant a drink, it is better to check the moisture level of the soil.
String of hearts is a semi-succulent plant which means it is more tolerant of dry soil than wet soil.
String of hearts plant, Ceropegia wodii, loves to grow in well-drained or fertile soil but it also needs watering once after every 10 days.
You can allow the soil to dry completely between watering cycles. Because of its native conditions (South Africa), you should not take this plant to wet conditions. Otherwise it can get bunches of roots.
Overwatering tends to result in yellowing of the leaves and eventually results in leaf loss. If you think you have overwatered your plant then aerate your plant place and let the soil completely dry out.
2.      Light & Suitable Growing Place
String of hearts plant prefers to grow in bright light but does not tolerate 24/7 direct sun.
Too much direct sunlight can scorch the leaves and make your vine feeble.
Under the right warm conditions and filtered light, the variegated string of hearts plant will grow fast and will flower abundantly. If there are large spaces between leaves, this maybe the reason that your plant is not getting enough light.
As it is widely grown indoor plant, south or west facing windows are best to place a pot or hang a basket. You can also give your chain of hearts equal amount of light by rotating the plant time to time. This will ensure all sides of your plant are getting a balanced amount of sunlight.
On contrary, some home gardeners living in moderate or warm climate grow string of hearts outdoors. If you have mild or favorable conditions, you can also grow in balcony or backyard. When growing outdoors, be sure to place your plant at a spot receiving 3 to 4 hours of bright indirect sun and have shade in afternoon.
3.       Temperature & Humidity
String of hearts or rosary vine plant thrives well in warm temperature and a slight humid environment. So, maintain indoors temperature to about 80-85 oF. On the other hand, don't let your string of hearts sit in temperature below 41 oF during winters. You can easily keep record of daily temperature with digital thermometer.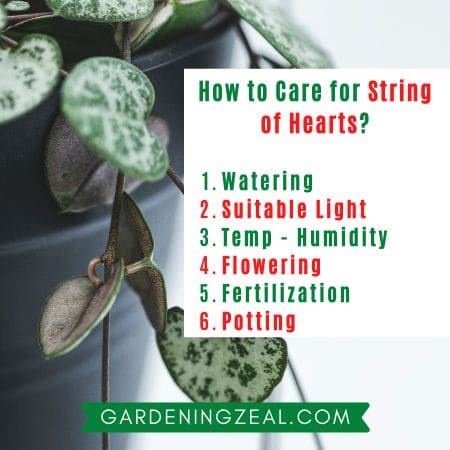 If the temperature at your place is exceptionally cold, you can also get benefit of grow tents or simple use grow lights to give appropriate warmth to the plant.
This plant also enjoys 40-50% humidity and is well suited to mostly home conditions. Similarly, you can also enhance humidity level with humidifiers.
4.       Flowering
The beauty of this plant is striking heart shaped leaves in a chain and the gorgeous pattern on the trailing leaves. But it can also produce small purple flowers in the spring/summer. These small flowers make this plant prominent and give a real indoor plant.
5. Fertilizer
String of hearts needs infrequent fertilization with a light fertilizer. You can give your plant a feed of half-diluted fertilizer once a moth during its actively growing season, May – August.
Ensure the fertilizer must not be rich in nitrogen.
An important thing is avoid fertilization in winters as plant goes in dormant phase and winter fertilization can harm more than good.
6. Potting & Repotting
In the highly suitable conditions, chain of hearts or rosary vine is easy to grow in water or soil. Make sure that the conditions are friendly to your plant. Once it is properly rooted, you can pot or repot your plant to any place you want.
It is best to repot string of hearts during summer. As plant is growing actively, the risk of plant damage minimizes.
String of Hearts Propagation
Here are some different ways to propagate this beautifully gorgeous and versatile variegated string of hearts.
Water Propagation
Soil Propagation
Tuber Propagation
Water Propagation
Water propagation of hearts-on-a-chain plant is simply easy. The steps you need to follow are:
Firstly take some healthy stems from several cuttings that are a few inches long. Place them in water pot.
Remove the leaves from each stem that are under the water in your glass. This will prevent the over rooting of the stems.
Keep the water pot filled with fresh water. Make sure you have a few leaves on each stem that are not under water.
Must change the water of pot at least once a week or so. As i mentioned above, water must be fresh. If you notice the water is getting muddy, change it more frequently.
Don't forget to place your pot in indirect light. This is how you can have better results in few weeks.
When your water propagated cuttings get some roots, don't wait for them to get too long. Just go and plant them in soil.
Propagation in soil
Propagation in soil follows the same method as propagation in water described above. In this method you would stick the cuttings directly into the soil.
In this way, must ensure that the nodes are properly covered into the soil. After that the root can grow. Also make sure the cuttings are placed in aerated place.
Normally using the stem cutting method is simply easy and generally shows good results.
Tuber Propagation
Tubers on chain of hearts plant describe how old your plant is. Older your plant goes; tubers of various sizes all along chain of hearts vines become visible.
Without cutting off the vines, you can place the vines with the tubers on the top of the pot.
Now bury the tubers. You will find new roots from tubers. Once it is rooted, you can cut it off from the plant.
Plant these roots to some suitable place and get a brand new chain of hearts plant.
So, if you have an old plant in your house that has lost a lot of leaves. Don't be sad. You can easily apply this propagation method and can get another string of hearts plant, Ceropegia wodii. Just get new roots and plant them in a nice bright place. Soon you will have a newly grown string of hearts plant.
String of Hearts Problems
String of hearts is generally a resistant plant and endures varying environmental conditions to its best. Still, certain diseases and pests arrest healthy plant growth and result in various issues.
Diseases – Root Rot
Root rot is one of the most serious issues the string of hearts faces and is caused by improper watering. This problem arises when plant is overwatered. As it is a succulent and doesn't like to sit in soggy soil, excessive amount of water rot the plant.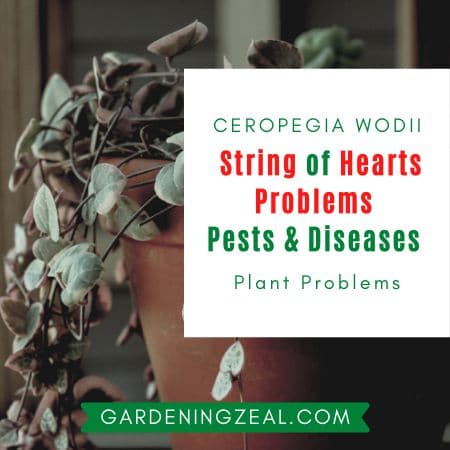 You can easily secure your chain of hearts by being careful in watering and allow soil to be completely dried out before second round of watering.
Pests – Mealy Bugs
Mealy bugs are tiny, pinkish bugs that hide in plant without being unnoticed. They make white cottony webbing and feed on the houseplants to weaken them. Same happens with the string of hearts plant but you can wash them off with water or wipe alcohol dipped swabs on the leaves.
FAQs – String of Hearts Care
Why Is My String of Hearts Showing Yellow Leaves?
The yellow leaves on string of hearts or rosary vine are clear indication of overwatering. String of heart hates sitting in wet soil for too long and maximum plant issues arises from excessive water in the soil. If you are in doubt and cannot judge soil condition, simply put your plant out and have a finger test. Just insert a finger in the soil, if I sticks, it shows plant have wet feet. Another indication is the smell of waterlogged soil. Put yourself near to the pot, if you smell awkward, problem is in your soil.
The second obvious option is to use moisture meter as it gives definite values instead of random guess that is superb. When you will be able to maintain a balanced dampness of the soil, your plant will recover soon. In addition, using perlite in potting mix also gives best results.
Why Is My string of Hearts Leaves Curling?
String of hearts grows well in proper, bright and indirect light. When it receives inadequate amount of light or have more shade, the leaves do not grow as thick as they should and end up with curled leaves. To fix this string of hearts plant problem, shift your plant to a brighter area or if growing indoors, move your plant to outdoors for a certain time period. Placing the plant near to light source is also a good option.
Why Is My String of Hearts Leaves Drying?
The string of hearts leaves dry for inadequate watering. Although the plant is succulent, capable to withstand little watering but the leaves are directly affected and dry gradually. The older plant leaves have comparatively more water content than young foliage and can bear under watering. On the contrary, young leaves dry or shrivel early.  So, the remedy of string of hearts drying leaves is proper watering.
The second most obvious reason of string of hearts dried leaves is round bounded plant. When the roots are clamped in a small pot, plant prefers losing some leaves. The leaves are dried out before falling off the plant.
Why Is My String of Hearts Leaves Falling Off?
The string of hearts also or rosary vine prefers bright indirect sunlight to give healthy green leaves but in continuous shade or insufficient light, plant leaves fall off. Plant gets low light as a stress and responds by shedding the leaves. So, if notice your Ceropegia wodii is losing leaves move it to a bright place. You can also place it outdoors unless leaves stop falling off.
If your plant's leaves are falling despite of proper light, consider its soil moisture. If it is sitting in soggy potting mix, it must be losing leaves especially the ones closet to the roots. Terracotta pots have best drainage and help growing indoor plants without major issues.
What Is The Reason for String of Hearts Leaves Rotting?
The string hearts leaves rot if the plant is in waterlogged soil and pot has no drainage hole. The second major reason of leaves rotting is lack of light. When plant is placed in damp spaces like washroom with little light, plant suffers and leaves start decaying.
So, observe plant conditions and if using pot without drainage hole, repot in a well-draining planter. Secondly, give it adequate light as it is not good for rooms that lack light.
What Is The Reason of My String of Hearts Color Loss?
The string of hearts color loss is primarily caused by lack of light. As plants leaves have a pink hue when grown in ideal conditions, but if take away bright light, there will be no pink color in the leaves. This mostly happens with Variegated Ceropegia woodii variety as it is well known for this startling color combination. Address this color loss issue by placing string of hearts in bright light or give it a corner outdoors.