If you start counting Rubber Plant Benefits, you may get tired but this splendid rubber plant tree will not.
As this is such an attractive houseplant, it will not let you go without praising its beauty. So, why not grab its beauty plus benefits?
Get ready to take double benefit after reading this article because…
Here you will get all the details of extremely surprising 8 Rubber Plant Benefits starting from its air-purifying capability with the whole mechanism to its simply easy and workable care tips.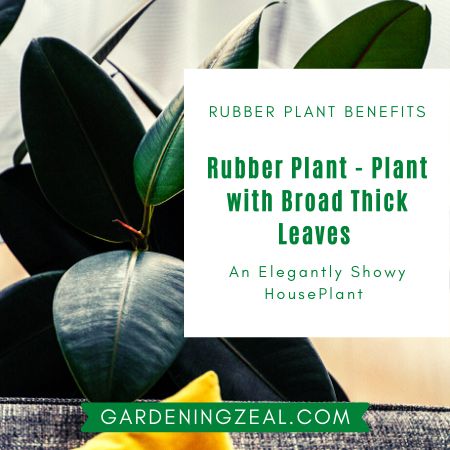 More you will find how to prune and propagate rubber plant and most worthy common rubber plant problems.
So, let's start to dig in all about rubber plant and its benefits!
Further Readings:
Rubber Plant Scientific Name
Here is the scientific name of Rubber plant 'Ficus elastica'.

Rubber Tree Information – An Elegantly Showy Plant
Rubber tree belongs to the Banyan group of figs, native to eastern parts of South Asia.
Its absolutely stunning with broad thick glossy leaves and unusual height reaching up to several feet if not cut.
Leaves: The leaves are one of the reasons for its captivating beauty. Broad bright thick green leaves are the specialty of rubber plant trees that make them unique from rest of the plants.
Broad oval leaves may grow up to 10-30 cm long and 5-15 cm broad which is one of the rubber plant benefits for cleaning indoor air.
Flower: This plant is well known for its long height not because of the flower. As it is a plant not producing bright and striking flowers.
Many of the growers get confused about the newly emerging leaves as they emerge from the bright red sheath. But these are not flower.
You may get figs on mature plants but remember before giving it a corner of your room or lounge that it is popular for bright green foliage not because of the flower.
This plant will give you a perfect green sight!
General Summary
Scientific Name
Ficus elastica
Common Name
Rubber Plant
Height
Natural Habitat: up to 100 feet

Pot: 7-10 feet

Special Characteristic
Air Quality Enhancers

Highly Manageable

Suitable Place
Indoors
Foliage
Bright waxy green
Flower
No colorful or fragrant flower
Light
Indirect bright
Water
Variable
Temperature
Variable
Toxicity
Sap may cause irritation
Problems
Not specific
Rubber Plant Benefits – 8 Exceptional Rubber Plant Tree Benefits

Air Purifiers
One of the exceptional benefits of the Rubber plant is its air-purifying quality that makes this plant worthy of the rest of indoor plants.
Broad thick leaves make this plant suitable as an air purifier. According to studies of NASA, the rubber plant is categorized among plants capable of improving indoor air quality.
Rubber plant can purify the air as
Absorbs and convert harmful airborne chemicals into harmless ones
Increase breathable oxygen
Eliminate microbes from air e.g; bacteria
Make air free of mold spores
Air Cleaning Process
Rubber plant exhibiting multiple benefits is well known to clean air due to its broad leaves that play a central role in this cleaning process.
These oval thick leaves are broad enough 5-15cm and 15-35cm long. Due to vast surface area, leaves absorb air containing pollutants and other chemicals.
When water is supplied from roots to the upper plant body, as natural system works, the air is drawn downwards. As a result, contaminants are also drawn with air and deposited in the soil.
Here, comes the ultimate fate of these contaminants. Soil is rich in microbes. When pollutants encounter contaminants, they are broken down into harmless compounds or other nutrients that soil may provide plant as a nutritional source.
This is how rubber plant freshens the air in addition to giving a stunning look to your indoor garden.
No pollen – No Allergy Problem
If you grow plants indoors and get worried about the allergy, you must know that it is due to the pollens produced by their blooms.
Most of the indoor growers face this issue.
But rubber plant gives this tremendous benefit of not producing pollen grains. Now this is the best choice to grow in home, office or even in your clinic.
Inexpensive – Easy to Propagate
Growing plants may be desire of many of you but costly plants may push it far away but adding to your good luck, rubber plant is not an expensive plant.
You can easily afford and manage with little care to grow by propagation that you can see below in detail how you can propagate rubber plant.
Now its up to you how much time you waste without getting benefits from the rubber plant.
Just do it fast and enjoy its benefits.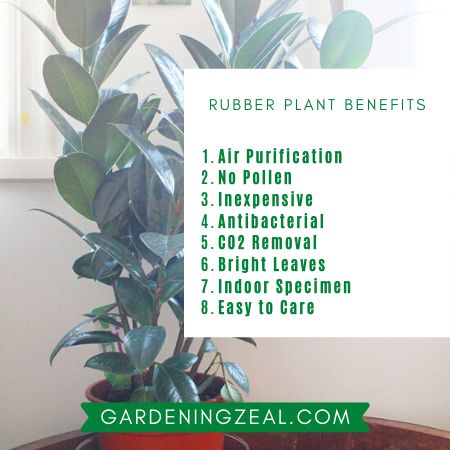 Anti Bacterial
You know bacteria exist where we live. In water, soil, food and most importantly in the air. Here is a huge count of bacteria in the air we think clean and safe. According to a study, almost 1800 kinds of bacteria are present in the air.
Among some airborne harmless bacteria, most of them are dangerous as they may cause infections. So, there is an ultimate need to control.
This act is accomplished by rubber plant because it is anti-bacterial and can reduce bacteria and mold up to 50%.
Carbon Dioxide Removal – Best Rubber Plant Benefit
Adding to rubber plant benefits, especially air freshening quality, this astonishing rubber plant will not only remove pollutants but also give you plenty of oxygen.
Yes!
More oxygen, fresh air!
If you are wondering how this rubber plant benefit can be achieved is you just have to grow it indoors and it will efficiently convert exhaled carbon dioxide into oxygen.
As you know, indoor spaces are mostly close and fresh air is restricted to enter. Rubber plant is best of all indoor plants to give you what you want.
Bright Green Leaves – Keep Plant Alive
Rubber plant (Ficus elastica) has leathery green leaves with a shiny broad oval shape. These large leaves are the largest in size on young plants approximately 18 inches long.
This leaves' texture gives the plant a tough waxy nature that you can easily clean and make the plant glowy.
Rubber Plant – An Indoor Specimen

Rubber plant grows and continues to grow upwards. It would not be wrong to say it indoor tree because of its growth.
This plant was one of the best houseplants some decades ago when people were used to live in big houses but unfortunately when we became more modernize and made smaller apartments, this houseplant moved away.
Fortunately, this rubber plant revived its value and people started to grow it as indoor plant.
Even if you have grown this plant and its getting beyond the limit tall, you can easily restrict its height by pruning after reading how to prune rubber plant below.
Easy to Care
Rubber plant is such a friendly plant that if you give little time, it will give you back fast growth without any problem.
So, just read the simple and easy to follow care tips and apply to your indoor rubber plant to get best of rubber plant benefits.
Rubber Plant Tree Care Tips
Ficus elastica, commonly known rubber plant is an easy to grow plant that requires your little care.
Some people say rubber plant may go well even with negligence but don't be a careless grower because plants and tress demand nothings but little care.
So, here are some care tips for rubber plant that you can take care of and get fully grown fresh and amazing plant.
Light
Just like other houseplants, rubber plant grows well in bright indirect sunlight. You can place your pot near window with sheer curtains so that plant get right amount of sunlight.
They can withstand dim light but not bright direct light as it may burn the leaves and damage plants.
So, be choosy while placing your rubber plant even most of the houseplants.
Soil
Best soil for rubber plant is well drained and well aerated soil. If you are having well drained soil in plant pot, half of your caring steps are fulfilled.
Stay concerned for your greens!
Water
Give water to rubber plant rightly so that it may not get any problem of leaves and any other. You can set watering by seeing its stage and season as
Growing season: Summer; require more water (once or twice a week)
Dormant season: Winter; less waters (once or twice a month depending upon need)
Don't make the plant standing in water filled pot. In growing season or in dry conditions, you may water once or twice a week but be careful especially in winter.
If you over water your plant, it may be susceptible of root rot.
In addition to watering, you must have a check on misting the leaves or just wipe the leaves with damp cloth. Moist clean leaves will be more efficient to give all the benefits.
Temperature
Rubber plant is quite temperature sensitive plant. Just like other care check points, temperature is also a worthy one.
Generally, it prefers humid environment because of its tropical origin and doesn't like hotter conditions.
Plant will happily grow if you keep temperature between 10-30oC. In hotter environment, plant will not be able to sustain its turgidity.
In winter, it can withstand temperature as low as 4oC.
Fertilization
There is not much need of fertilization to rubber plant but like other indoor plants, best time to fertilize is during growing season.
Don't fertilize in winter.
Precaution – Be Alert!
You must be aware of the fact that rubber plant produces milky white material 'Sap', if injured, that may prove toxic if taken internally.
So, be careful when handling this plant and wash your hands after dealing with it because it may cause irritation to eyes or diarrhea.
Rubber Plant Pruning
Pruning of rubber plant tree is not a big deal. If you live in a space not supporting extensive plant growth, just prune the plant.
As rubber plant is fast growing and can reach height of feet within years, you have to prune to restrict its growth.
Don't cut the top of the plant until you have achieved desired height.
Once your plant got appropriate height, cut the branches to reshape it.
Like other plants, best time to prune rubber plant tree is spring or summer.
Don't do this in winter.
Rubber Plant Propagation
Hopefully you are done with caring rubber plant tree and its growing good.
Now your friends must be driveling for this beautiful plant. So, here is the way you can propagate rubber plant and gift to your love ones.
How to Propagate a Rubber Tree Plant
Four steps easy way to propagate rubber tree plant
Take a 10-15cm long piece of growing plant. You may also take a growing tip.
Wash it after removing leaves until sap stops oozing.
Plant the cut and washed stem or growth tip into compost or soil (can also use rooting hormone).
Place the pot at a slight warmer place.
Air Layering Rubber Plant
Propagation by air layering is another method of propagating rubber plant that you can easily opt.
You just have to follow this simple method.
Make a cut in rubber plant's branch or stem and place a clean toothpick in that hole.
Wrap it in damp moss and cover it with plastic wrap so that it may remain on the toothpick.
When you see roots growing, cut the branch and plant in new soil.
Rubber Plant Pests and Problems
Pests or Diseases
Generally, Rubber plant (Ficus elastica) is pest resistant but might be attacked by certain pests or caught by the diseases.
Here are some common pests that attack most of the houseplants so the rubber plant
Scale insects
Mealy bugs
Aphids
Spider mites
Thrips
You just need to have a check on the plant so that you can figure out any damage at initial stage.
But no need to be worried about if your rubber plant has been affected.
Try these
Neem oil is better option for this purpose as it is not harsh and will not do any damage.
You can also use insecticidal soap sprays until you get plant pest free.
Common Problems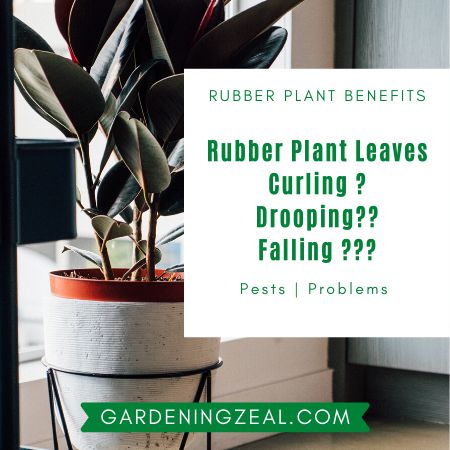 What if your Rubber Plant Leaves Curling?
If your rubber plant leaves are curling, it may be the effect of temperature or over watering.
As it grows best in temperature up to 30 degree, but if it gets higher than thirty degree plant leaves may get affected and show curls.
Are Your Rubber Tree Leaves Drooping?
First, observe are the leaves only drooping or drooping leaves are falling?
Only Drooping: If the leaves of your rubber plant are drooping but not falling it means your plant is underwater. Water it properly and timely.
You will see leaves will strengthen again.
Leaves Drooping and Falling: If you locate the problem as the drooped leaves are falling, your plant is over watered.
Check the pot. It must have drainage. If your pot doesn't have holes for drainage either repot it to a new pot or give it less water so that roots will not rot.
 Rubber Plant Leaves Falling Off?
The two most common reasons of falling leaves of rubber plant tree are over watering and change in light exposure.
If you bring your outdoor plant to inside, it may be affected due to change in light exposure and leaves will shed.
Other reason is over watering. As rubber plant is sensitive to watering, neither over water nor underwater it.
Hope you got all the points clear regarding rubber plant benefits and now ready to take advantage of this plant.
Happy gardening!
Read More: