Purple heart plant (Tradescantia pallida) is the queen of all plants!
Yes, this purple heart plant is an evergreen plant with lance-shaped long purple leaves and delicate pinkish-purple flowers that make it queen of the garden.
This is a perfect houseplant that has much to explore!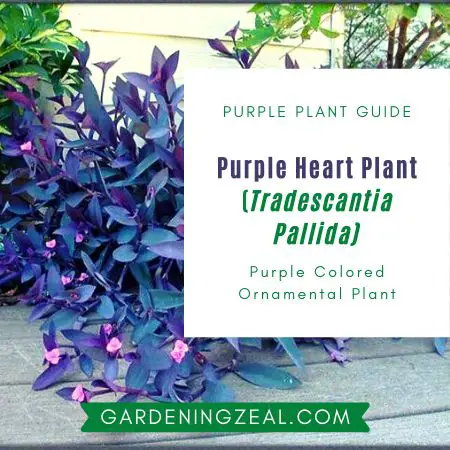 Its multiple common names, significance, planting instructions, indoor and outdoor care routine, uses, and benefits, most importantly, medicinal uses, all of these are worth knowing that are discussed here.
Last but not least, all of your questions related to 'Purple heart plant' are also answered at the end.
So, keep exploring this exceptional plant.
Purple Heart Plant Information
Purple heart plant (Tradescantia pallida) is an excellent groundcover with pointed long purple leaves that dignify the plant as 'Purple Queen.'
Yes!
Purple heart plant is also well recognized as 'Purple Queen Plant' or 'Wandering Jew.'
If you are looking for a striking flowering plant in your landscape, this purple plant is the best because its long velvety purple leaves give magnificent contrast with delicately small purplish-pink flowers.
Flowers bloom in the spring and autumn. Long purple leaves with three-petaled bright flowers at the ends of the stem give the plant a whole purple world in the garden.
Even if you see it, you will be amazed by its attraction as its purple stem is masked with large pointed leaves giving a perfectly crafted cover.
In addition to groundcover, the purple heart is an outstanding houseplant that grows well in a patio container or a hanging basket.
So, now there is no excuse for not having this purple anymore!
Just dedicate a corner of your indoor living or give it a space in the yard, it will wipe all your depressions with its beauty.
Purple Heart Plant Annual or Perennial? Explore Purple Plant
This is the mystery of the purple heart plant that whether it is an annual or perennial plant? If you are confused between annual and perennial plants, then let's make it clear first.
Annual plants are the ones that are only for one year as the name indicates 'Annual.' They just grow, bloom, and produce seeds and die. You will not get them next year until replanted. 
But if we talk about perennial plants, these are the plants that bloom, die, and recover over the course. They bloom over the spring and summer season, die every autumn and winter, and then regain their stature every spring.
And their life cycle goes on…
These are generally small flowering plants.
Just like any other specialty in the purple queen plant, it is perennial.
In a frost-free climate, it is an excellent groundcover and generally likes full sun for full bloom.
So, you don't need to take the tension of losing it because it is not going anywhere once you plant it.
The thing you need to do is just stick to simply easy to care tips that are discussed below and if you will strictly follow the last tip, it is guaranteed that your purple queen will never ever face any problem.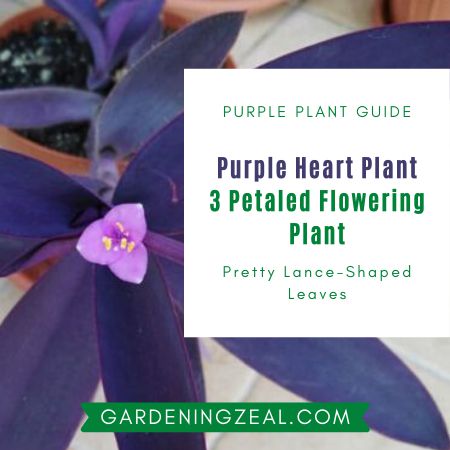 General Summary: (Purple Heart Plant)
 ?

   

  Scientific Name

Tradescantia pallida

 

✅

     Common Name
Wandering Jew/ Purple Queen Plant

?

       Type
Evergreen Perennial
 

⬆⬆

       Height
8-12 In.

↔

         Spread
10-15 In.

?

      Foliage
Purple

?

       Flower
Pink

⚡

       Blooming Season
Spring to Autumn

⛪     

Suitable Place
Full Sun
 

☀     

Light
Prefers Full Light

?

         Water
Variable

?     

Temperature
Warm

?     

Zone
9 – 11

?     

Toxicity
Skin Irritation

?

       Special Characteristic
Cold Tolerant/ Drought resistant

?     

Uses
Ornamental/ Controls Air Quality
Purple Heart Plant Information
Tradescantia pallida Purple Heart Planting Guide 
If you don't have a purple heart plant in your yard, it's the best time to grow and enjoy its mesmerizing beauty.
Without any further delay, let's begin the purple queen planting guide.
You need
Hoe, spade or power tiller
Organic matter (peat or compost)
Starter Fertilizer e.g. (12-12-12)
Purple heart plant (baby plant)
When you are sure that you have all the things needed, start this step-by-step procedure of planting a purple heart plant.
    Manage the Best Space
First thing you need to consider before growing purple heart plant is its place.
As purple plant can grow in partial shade, but it keeps the best color in the sun. So, select its place wisely for its full brilliance.
Even if you want to grow indoors, give it a place facing the sun.
The second thing you have to keep in mind is that maintain a reasonable distance between newly planting purple queen and other plants in the periphery.
There will be more competition between crowdedly grown plants that will lead to fewer blooms.
As it is groundcover and reaches up to 1 foot, so try to keep a distance of approximately 2 feet.
   Prepare the soil
The second step you have to do is prepare the soil with a hoe, spade, or power tiller and enrich it with nutrients.
You can add peat moss, manure, or compost as they add nutrients and also help to improve the drainage of the plant.
You may also add starter fertilizer or all-purpose balanced feed. It will give an extra boost to plant growth.
    Set the Plant in Soil
Now is the final stage of placing your purple plant in the soil. You have to dig a hole, larger than that of the root ball of the plant.
Just rake the roots with your hand so that dense roots will be more available.
Now, put the plant in soil and fill space around the root ball with fingers. Gently tap the soil hands or use the flat side of the trowel to firmly even the soil.
Make sure that the soil around the root ball is even.
Water the plant at the time so that the new plant can grow to its best.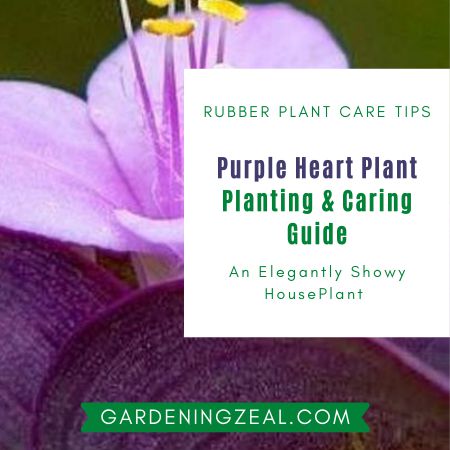 Purple Heart Plant Care – Tradescantia pallida Best Care Routine 
Coming towards the care routine of purple queen plant, you need to follow some of the care tips that are discussed below, and you will enjoy a healthy purple plant ever.
All of the tips are worthy of following, but the last one will rock your plant.
Water
Newly grown purple heart plant (Tradescantia pallida) needs more water than elderly grown. So, if your plant is newly planted, water it daily for some weeks.
Later on, give it less water and shift to a watering routine that depends on weather and soil conditions because a well-established purple queen is considered drought tolerant.
So, water it carefully.
You can adjust your routine to every 2-3 days.
If your plant is grown in sandy soil, water it more often because sandy soil retains less water than clay soil.
Pro Tip: You can also check moisture in the soil simply by your fingers or use a small trowel to dig in and check moisture.
If you observe 5 to 10 cm of the soil is dry, it means it is the right time to water the plant.
Fertilization 
Fertilization of every plant is critical and needs sensible attention. So, fertilize purple heart with a proper routine so that plants may grow with full potential.
Fertilize your purple heart plant once a month when it is in the early growing phase. Decrease fertilization in winter and again apply in summer or spring.
There are different types of fertilizers like granulated, synthetic, or organic fertilizer, and slow release.
Check the label of the fertilizer that you are using and follow all the instructions mentioned for best results.
Pro Tip: Don't fertilize too much as over-fertilization may also damage the plant.
Pinching off 
The most effective care tip is to pinch off the tips of the stems so that plant can be more bush-like. Pinching back the plant boost dense growth and encourage more flowering.
After flowering, cut the stems about half of their height. This will give a robust growing effect on the Tradescantia Pallida. 
Pro Tip: Whenever you look plant is slenderly growing, pinch it off to get more blooms.
Purple Queen Plant Indoors Care 
If your purple queen plant is indoors, you still need to keep an eye on it and follow some care tips as
Grow purple queen in potting soil contained pot or container and make sure that it has a hole for maximum drainage.
Wet and soggy soil will lead to root rot. So, be careful in pot selection.
Most people inquire, 'Will purple heart grow in the shade?' The answer for them is 'YES' it can grow in the shade but for full purple blooms, place it in full sun even if indoors.
Use general-purpose liquid fertilizer for indoor plants as directed on the label. Apply it on the damp soil as there are chances of the burning of the roots if directly applied on dry soil.
Pinch the tips of the plants to maintain a manageable shape of the plant.
Maintain temperature about 60-70oF of the indoor place where Tradescantia Pallida is grown.
Purple Heart Plant Benefits
Purple heart plant has numerous benefits ranging from giving immense beauty and eye-catching view to a healthy environment to live.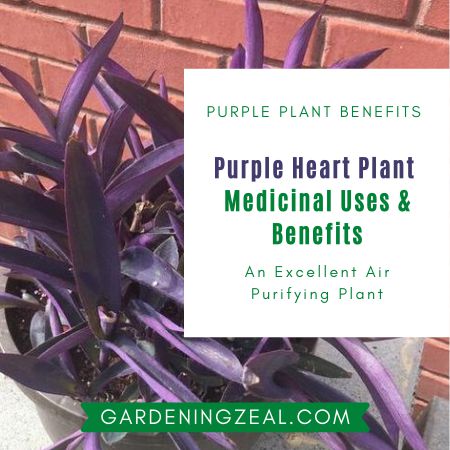 Here are some of the exceptional benefits you must know and feel the pride of having this plant.
Tradescantia Pallida is one of the best plants that serve air purification jobs and is authorized by NASA for this potential behavior.
They filter 'Volatile organic compounds that are present in the air. These VOCs are major air pollutants and respiratory irritants that cause severe problems.
Purple queen plant efficiently removes these compounds and make indoor air livable.
This purple plant is an excellent bioindicator of contaminants and air pollutants.
As Tradescantia pallida have an astonishing purple color, research shows that has majorly two such pigments that are used as a food colorant.
Tradescantia Purple Queen Uses
Tradescantia pallida is an economically significant plant that is grown indoors and outdoors as ground cover or in the basket as a hanging plant.
It is also used as window boxes or grown as beds that give a perfect contrast in the garden. Even Tradescantia pallida are also grown in porches and patios.
Tradescantia pallida Medicinal Uses
Purple heart plant (Tradescantia pallida) is a valuable plant that has specific medicinal properties in addition to its charming beauty.
Here are some
Taiwanese studies report it to improve blood circulation.
It is also reported that the purple heart plant has anti-inflammatory and anti-oxidant properties.
In China, Tradescantia Pallida is called Shui Gui Cao (Water Turtle Grass) that is considered beneficial for treating kidney
Tea is also made in China with Wandering Jew that is helpful for stomach ailments.
This plant is also reported beneficial for hypertension and high blood pressure.
FAQs: Purple Heart Plant (Tradescantia pallida)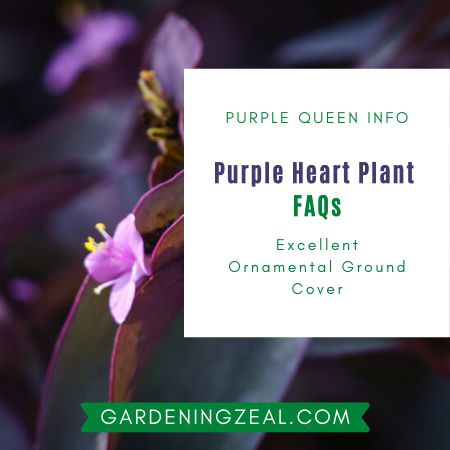 What do you say Is Purple Heart Plant Poisonous?
No, purple plant is not deadly poisonous but may cause complications if ingested, especially sap. That is why wash your hands when you come in contact with the sap.
Its foliage may also cause skin irritation, so keep it away from the pets so that they may not get any problems.
Is Purple Queen Plant Toxic to Dogs?
Purple queen may cause some allergic problems that may pertain for several months. So, it is not fatal for dogs or pets, but you have to be careful.
Is Purple Heart Plant Toxic to Cats or Not?
Contact allergy is the same in cats as in dogs. Cats get allergies when they come in contact with purple heart plant. So, grow it at a place or in the pots that are inaccessible for pets.
Why My Purple Heart Plant is Turning Green?
The bright purple color of purple heart plant (Tradescantia Pallida) is achieved in full sun. If your plant is turning green, check its location and water on time.
What Do You Say About Tradescantia pallida's Toxicity?
Tradescantia pallida is equally toxic for all as it may cause mild complications for pets, cats, and dogs, even for the grower.
Is Purple Heart Plant Edible or Not?
As far as purple queen's consumption is concerned, it is not reported as an eatable plant. Most widely, it is used as an ornamental plant that decorates lawns, porches, and even indoors.
I hope you have got all the questions about purple heart plant here in one place. Now you can easily grow your plant or take care of already grown by following all the tips described.
Make your plant happy and keep your lawn wealthy!