Moss poles act as support for epiphytic plants like Monsteras. Since epiphytes grow around live branches and canopies in the jungle, they need a moss pole to replicate that natural growing environment indoors and provide physical support for them to climb and grow aerial roots.
DIY moss pole for plants can be easily made by sticking moss around a stake and tying it, then inserting the pole firmly into a pot.
Keep reading if you're interested in placing support for your plant but wondering how to make a moss pole in just 5 steps.
You will also get to know easy ways to keep moss pole mosit and plants that need this support. So, let's dive in!
How to Make a DIY Moss Pole for Plants – 5 Simple Steps
If you can't find a suitable moss pole for plants online, you can give our DIY moss pole a go- it's fun, easy, and doesn't require a lot of materials.
●      Step 1: Material Hunting
The first step is collecting and gathering all the necessary materials for your moss pole. For this DIY, you'll need:
A stake or branch of your desired height and width. The best options for this are bamboo or a PVC pipe, but a wooden dowel or plastic rod may suffice. For smaller plants, you can use bamboo chopsticks as well. Just make sure the stake is rot-resistant.
A pile of moss. Make sure you have a decent amount, so the moss is all connected and not broken up, making it harder to keep the pole moist the first few days. Sheet moss, sphagnum moss, and coconut fiber (coir) are the best for a moss pole.
Any string. There's no hard and fast rule, and it could be a rope, piece of fabric, jute, twine, or a fishing line. Make sure you have about 3-4 feet long string. You can pick the kind of string depending on the aesthetic you're going for.
Hand gloves.
A pair of scissors.
A container of water.
●      Step 2: Soaking the Moss
Once you've collected the moss, put it in a container full of water and let it soak for roughly 15-20 minutes. Handle the moss carefully while doing so, and avoid breaking it up.
Once you're done with soaking, gently squeeze the moss to get rid of excess water.
The goal here is to get damp moss that isn't dripping wet. Make sure you're wringing out the water just before you're about to tie it, and don't let it sit out for too long, or it'll get dry quickly.
●      Step 3: Tie the Moss
It's finally time to make that moss pole for indoor plants you've wanted for so long!
First, lay your pole on the floor or a table.
Grab your string, and tie one end of it on the upper part of your support. Make sure it's a tight knot.
Place all your moss at the base of the rod and gently start pulling it upward. Avoid breaking the moss. Damp moss is easy to bring up and sticks itself. Bring the moss to the top and leave ⅓ of the bottom part of the stake bare as this will go into the soil.
Once you've evened out the moss, it should be about ½-1 inch in thickness.
Now bring the string back up and start spirally tightening the string around the moss pole. Hold moss from one hand and wrap the string with another. Go twice over every loop. Make sure to bind the moss tightly.
Once you've covered the moss, tie the string into a binding knot at the base of the pole and cut the excess part of the string. You can also trim any excess moss.
Alternatively, if you don't want to use a string, you can use a net or grill. Lay down your grill, place the moss flat in it, adjust the stake in its center, and bind the moss to the stake by rolling the net around it and tying it with a string at the ends.
●      Step 4: Place the Pole
Now place your newly crafted moss pole into a new pot through the unwrapped part. If you don't have another pot, dig out the plant.
Never poke the pole directly into a planted pot, as it can pierce the roots and cause significant damage to your creeping plant.
Add some potting soil for extra support. The pole should be upright to support any plant with big leaves.
●      Step 5: Train your Epiphytic Plant
Regardless of the plant, you're growing around your moss pole, and you need to train it. The process should be slow and gradual as forcing the plant can put it under great stress.
If your plant has a flexible vine-like stem, you can twine it around the pole. If the plant is rigid, tie it upright. You don't need anything special to tie your plant with the moss pole, and you can use the leftover string from the DIY.
Neither tie the stem too tight nor let it hang loosely.
Once you're done, mist the moss pole on the areas where the plant is connected and growing so aerial roots may form.
4 Ways to Keep a Moss Pole Moist
Most people are worried about how to keep a moss pole moist, especially when the weather is super dry, or they're going away and need the pole to sustain moisture itself.
Luckily, there are 4 easy tricks to keep a moss pole constantly moist so your creeping plant can thrive.
1.      Make a Self-Watering Moss Pole
You can make your moss pole self-watering by the wicking system and the slow drip system.
A wick watering system is easy to install and uses a synthetic string to absorb water and provide it to the plant. The plants will have an adequate regular supply of water and permanently locked-in moisture. You need wicking cords for this.
A slow drip system is also effective and can be made with the materials in your home.
Find a plastic bottle, preferably 2 liters in volume (varies with moss pole size), poke 3-4 holes in its cap through a hot needle, fill it up and stick it upside down into the top bit of the moss pole.
Make sure the pole is already moist. It will absorb as much water as it needs and self-water for a while.
2.      Keep the Moss Pole Cool
The heat of the sun can cause moss poles to dry out quickly and evaporate water, so avoid placing your moss pole directly in front of the sun.
Plants need filtered sunlight anyway, so it's a win-win situation.
3.      Avoid Windy Areas 
Not only do tall plants struggle with blowing wind, but it can damage your moss pole and cause it to expel water quickly.
Keep the moss pole plant away from windows if you live in a windy area.
4.      Use a Humidifier
Plants with aerial roots can also self-sustain if there's high humidity since they are experts at absorbing moisture in the air. A humidifier is a solid investment if you have multiple moss pole plants, as it helps maintain moisture for long periods.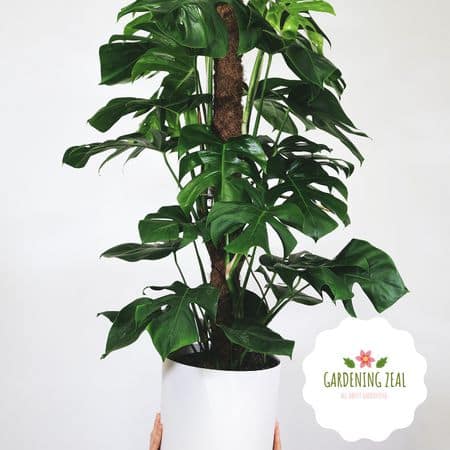 What Plants Need a Moss Pole?
Plants naturally grow on tree trunks, tall canopy, and branches that need a moss pole to sustain themselves. These plants are called epiphytes.
They also grow aerial roots that penetrate the moss pole. These roots absorb nutrients and moisture through the air and the moss itself like they would in a rainforest.
Without a moss pole, aroid and epiphytes are unable to grow larger leaves or support their structure.
Common plants that need a moss pole include climbing ones like Monstera and hanging ones like Philodendrons, Hoyas, and Pothos.
Swiss Cheese Vine is another plant dependent on moss poles.
FAQs – DIY Moss Pole for Plants
Can You Extend a Moss Pole?
If your climbing plant has outgrown the moss cane a bit, extending the pole is straightforward.
Follow our DIY method and make a taller moss pole using a sturdy stake and ideally the same moss type as you did previously.
You can do a thinner pole if there's not much space.
Gently lodge the new pole in the same pot and tie it with the old one using a string. Make sure the two are well connected, and the mosses can interact. Avoid piercing the roots of the plant while lodging the pole.
Tie the vine with the new pole in some parts.
At some point, your plant may outgrow the largest cane you can place, and that's why cutting the older bits is important.
You can also take sections out of the plant and plant them in a new pot to grow as a new one.
Is There a Moss Pole Alternative?
If you don't like the idea of a moss pole, there are many alternatives.
You can do a natural bamboo trellis or tree slab instead. The outer side of a tree slab with live edge wood is the ideal pick as it would mimic the trees in a rainforest and help your plant's vines grow and trail as they would on a trunk.
Bamboo trellis and jute poles are also solid options.
Conclusion – DIY Moss Pole for Plants
If you want to brighten your living space with gorgeous yet easy-to-maintain creeping plants like Monstera and Pothas, then using a moss pole is essential.
Moss pole creates a natural surface for these plants to latch on to and helps them grow by providing water and nutrients.
If you're interested in growing epiphytes, use our detailed guide about DIY moss pole for plants and make yourself a lovely self-watering moss pole.