Do you know inappropriate broccoli companion plants can make your plant stressed out? They compete with broccoli and suppress the growth.
Broccoli companion plants include leafy vegetables, tuber plants, and aromatic herbs, including mint, chamomile, celery, rosemary, and dill. Some annuals and perennials like Marigolds and Nasturtiums also prove best companions of broccoli. They give several benefits to companions and assist their growth.
So, if you want to keep your broccoli plant flourishing, be wise to surround it with the right plants and get the proper benefit of companion planting. Here you will find the ultimate benefits of all broccoli companion plants and how they encourage broccoli growth.
I've divided broccoli companion plants into sections
Vegetables
Herbs
Annuals and perennials
In the end, you will also find bad companions of broccoli. So, let's explore.
Vegetables – Broccoli Companion Plants
Beets
Beet plant (Beta vulgaris) is a cool-season fast-growing vegetable plant that grows well in cool temperatures of spring and fall 1.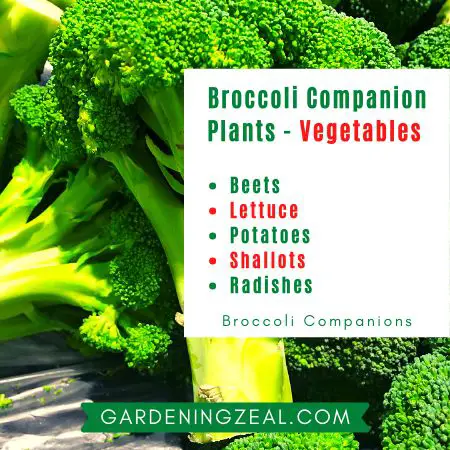 The beet plant is generally grown as a root crop, but all parts of it are edible. These are one of the most beneficial companion plants for broccoli as they require little room and are compromising.
Beets also enrich soil nutrients and make it healthy for companion planting.  The second most obvious reason for planting beets with broccoli is the calcium need.
Broccoli absorbs an enormous amount of calcium from the soil that does not affect beet growth. In this way, both plants get what they need without any competition and prove good companion plants for each other.
Lettuce
Lettuce (Lactuca sativa) is a well-known leafy vegetable and, like beet plants, is also a cool-season crop. It is grown worldwide, but the USA and Europe are the most significant consumers and producers of lettuce 2.
Growing lettuce with broccoli is in both plants' best interest and provides grow-able conditions to each other.  You can plant relatively close to each other without worrying about space and nutrients as both plants have root systems at different levels and draw nutrients from different levels of the soil.
So, there is not any stressful situation or unhealthy competition among plants. In fact, lettuce has a fibrous root system that makes roots go deep down in the form of fibers and absorb required nutrients.
There is also a mutual benefit of growing lettuce with beets and broccoli, as lettuce benefits from the magnesium added by the beets.
So, it's a win-win situation for all plants.Potatoes
Potato plant (Solanum tuberosum), member of the nightshade family Solanaceae is staple food crop of many countries 3.
Potatoes are grown for edible tubers widely used all over the world. You may cut, mash, boil or cook potatoes to have a starch-rich diet. In fact, potato flour is also used as a thickener for sauces in baking.
If you already have potatoes in a garden bed, you must know how easily they grow. But growing potatoes with broccoli is an ultimate treat.
They make broccoli more delicious and mouthwatering by enhancing its flavor.  You can clearly notice the difference between broccoli having potatoes as a neighboring plant and the one growing alone.
Secondly, growing potato plant along with broccoli is also a favor to your potatoes. Broccoli has a shallow root system and doesn't need in-depth nutrients. On the other hand, potatoes have a deep-rooted system, and roots anchor profound in the soil to absorb nutrients.
So, both plants reasonably get the required nutrients at different levels of the soil without developing competition.
Shallots
Shallots, a variety of onions (Allium cepa), are slightly aromatic plants belonging to Amaryllis 4.
The shallot bulbs are grown for their mild flavor in predominantly Asian cuisines. You can also use shallots in meat recipes and different sauces.
When it comes to broccoli companion plants, shallots stand out for pest repelling capabilities. They repel carrot rust fly and make vegetable garden pest-free.
Similarly, you can pair shallots with other veggies like carrots, beets, and herbs, including sage, thyme, mint, and chamomile.
Radishes
Radish (Raphanus sativus) is a cool-season, fast-growing vegetable belonging to the mustard family. The most common radish varieties are likely of Asia and are grown worldwide 5.
You can eat raw radish roots or cook leaves for a mild crisp.
If grow spring-type radish, they begin in late summer and mature in cooler days of fall. In comparison, winter radishes are sown in mid-summer to late summer and grow considerably more prominent.
A considerable benefit of rowing radish with broccoli is its mild growing behavior. Radishes do not thrive. They mature before other crops and help break up the soil as they grow. This early radish growth breaks down nutrients in the soil take companion plants can take.
You can also interplant broccoli with radish, spinach, and lettuce. These crops enjoy the shade under broccoli during late spring and early summer.
Aromatic Herbs – Broccoli Companion Plants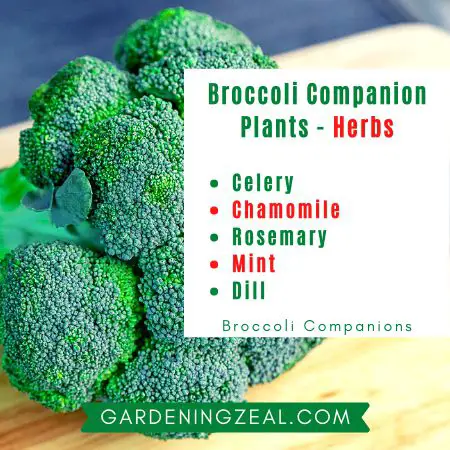 Celery
Celery (Apium graveolens )is an aromatic herb belonging to the Parsley family 6. It is mainly used as a vegetable but can also be delicately used in stews, stir-fries, soups, and salads 7.
Like so many other herbs, Celery is a potential companion of broccoli. It helps improving broccoli's flavor and make it more delicious.
Broccoli, celery, potatoes, and onions make a perfect companion garden where all neighboring plants boost broccoli's taste.
Chamomile
Chamomile (Matricaria chamomilla) is a traditional herb that comes from the daisy-like flower of the Asteraceae family.  It is widely used for various medicinal purposes and is an excellent tea ingredient.
You can have two common types of chamomile, German chamomile and Roman chamomile 8.
Chamomile is a wonder plant with anti-bacterial and anti-fungal properties. The good news is the chamomile neighboring plants also get the benefit of these properties.
When grown chamomile along with broccoli, it would automatically be safe from bacterial and fungal infections.  Mildew, mold, and blight are major fungal ailments, but chamomile serves as a barrier to protect broccoli from such diseases.
It also has a deterring scent and helps getting rid of mosquitos. When it comes to insects, it is not amazing it deterring harmful insects or mosquitos but is known to attract beneficial insects like hoverflies and ladybugs. These beneficial insects consume aphids, mites, or any other plant-eating insects.
Chamomile also attracts bees and other pollinators to the garden.
Overall, chamomile acts as a defense mechanism against bacteria, fungi, and insects to safeguard broccoli and other neighboring plants.
Chamomile also pairs well with mint and basil. It improves their taste and smell. So, growing broccoli with chamomile, mint, and basil is a great way to make your garden versatile.
Rosemary
Rosemary (Rosemarinus officinalis) is a relatively easy-to-grow herb and with ornamental features 9. It grows stunning flowers ranging in blue, white, and pink depending on the rosemary variety.
It has an intense flavor and pine-like smell that makes it a popular ingredient in several foods.
Rosemary is one of the best companion plants of broccoli growing along with other herbs like mint, thyme, oregano, sage, and lavender for its insect repelling power.
Rosemary repels cabbage moths, Mexican bean beetles, carrot rust flies, and cabbage flies that lay their eggs on broccoli. When your plants get rid of damaging insect pets, they grow healthy and beautiful.
Mint
Mint (Genus Mentha ) is a fragrant herb of the Lamiaceae family. This aromatic herb is widely grown and used in herbal medicine.
Mint also adds a unique flavor and pleasant aroma to the salads and cuisines. There are over 25 species of fragrant herbs, including this mint family 10.
Mint is a fantastic broccoli companion plant as it helps to maintain the fertility of the soil. It attracts earthworms, natural soil dwellers to improve soil fertility and helps to establish a uniform nutrient level in the soil.
Similarly, mint attracts hoverflies and predatory wasps and repels flea beetles, aphids, and cabbage moths. You can use cut mint as mulch around broccoli or grow in containers around any vegetable garden.
Dill
Dill (Anethum graveolens), a parsley family member, is an annual or biannual herb with a strong scent 11.
Whether fresh or dried, Dill leaves are used in salads, soups, dips, and many other dishes. The dill seeds are also used as a spice in pickling and enhance the flavor of stews and roasts.
Like any other aromatic herb, the dill plant is one of the best broccoli companion plants for its strong aroma.
It attracts ladybirds, garden spiders, hoverflies, bees, and parasitoid wasps. These beneficial insects or predators make a defense for broccoli and all other plants grown in closed vicinity.
When there would be no pest problem, plants will be healthy.
Annual and Perennial – Broccoli Companion Plants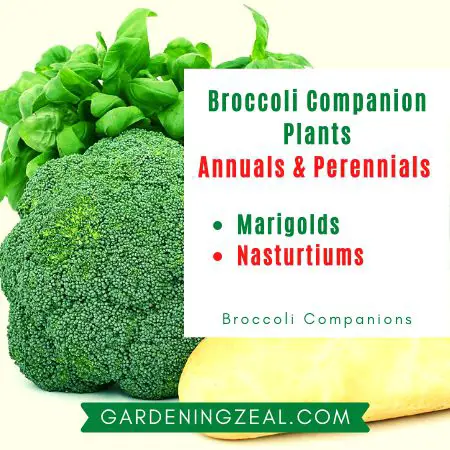 Marigold
Marigolds (genus Tagetes) are warm-season annuals with bright and long-lasting blooms. They are easy to grow and give your garden a spark of bright color 12.
It is believed that marigolds have some pest-repellent properties and keep several pests in check. French Marigolds and Mexican Marigolds are two common types to grow as companions of the broccoli plant.
French Marigolds produce a chemical to repel root rot nematodes, root-lesion nematodes, whitefly, and Mexican bean beetles.
Marigold companion planting also controls potato beetles, corn earworms, flea beetles, Japanese beetles, squash bugs, and cabbage maggots.
Similarly, the Mexican type also deters many pests and discourages rabbits from nibbling their plants 13.
Nasturtiums
Nasturtiums (Tropaeolum majus), native to South America and Central America, is a warm-season, easy-to-grow annual and perennial plant 14. The absolutely gorgeous nasturtiums flowers are a pure delight to the garden or landscape.
Nasturtiums are the most beneficial broccoli companion plants as they act as traps to attract aphids and squash bugs in the vegetable garden.
They keep such bugs away from vegetables and make a pest-free environment. Another outstanding contribution of nasturtiums in companion planting is their power to attract pollinators and hoverflies in the garden.
Broccoli Companion Planting Chart
Plant Varieties 
Broccoli Companion Plants
 Companion Plantation Benefits
Vegetables
Beets
Enrich soil nutrients, Absorbs enormous amount of calcium
Lettuce

Draw nutrients from different soil levels, Different root systems, No competition of space and nutrients

Potatoes
Enhance broccoli flavor, No competition

Shallots

Pest repellents, Repel carrot rust fly
Radishes
Breaks down nutrients, Make soil healthy
Vegetables
Celery
Improves broccoli's flavor
Chamomile
Anti-bacterial and anti-fungal properties, Deterr insects, Attract beneficial insects and pollinators
Rosemary
Insect repelling power
Mint
Maintain soil fertility, Attracts hoverflies, Repel insects and beetles
Dill
Attract pollinators and insect predators, Repel insects
Annuals and perennials
Marigolds
Produce a chemical to repel insects, Discourages rabbits nibbling the plants
Nasturtiums
Acts as insects trap, Lure aphids, Attract pollinators and hoverflies
What not to Plant with Broccoli – Bad Broccoli Companion Plants
When growing broccoli companion plants, avoid other members of the brassica plant family as they prove bad companions in poor soils 15.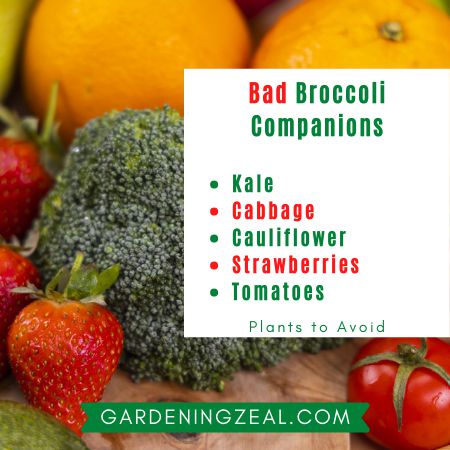 Plants from the same family have similar nutrient requirements, and in nutrient-deficient soil, plants compete and grow with nutrient deficiencies.
Growing different brassicas is not harmful as plants have a large nutrient reservoir if the soil is nutrient-rich and fertile. Also, be sure to properly fertilize the soil, so the soil remains full of nutrients throughout the growing season.
Here are some plants, including Brassicas that are avoided to plant with broccoli:
Kale
Cabbage
Cauliflower
Strawberries
Tomatoes
Peppers
Eggplant
Mustard greens
Pole beans
Lima and snap beans
Squash
The other significant category of bad broccoli companions is the heavy-feeders. Broccoli is also a heavy feeder, and other heavy-feeding plants grown in broccoli's vicinity can negatively affect it.
Instead, pair up broccoli with light-feeders, for example, beets or plants mentioned above in the article.
Here are some heavy feeders you must avoid to grow with broccoli:
Watermelon
Cantaloupe
Pumpkin
Sweet corn
Asparagus
So, it is all about broccoli companion plants, what to avoid and what to plant with broccoli. Hopefully, now you can better get the benefit of companion plantation and grow multiple plants to enhance the garden diversity.